Sonny Bill Williams is the latest in a long line of league converts who never looked totally committed to rugby union, writes Gregor Paul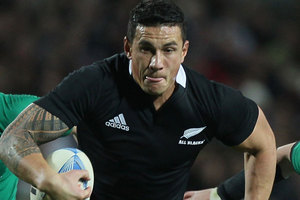 Rugby league players are famously tough and durable and yet when they switch codes, they become strangely perishable.
None of those who come across ever stick it out - they dabble and flirt but hardly any league stars have built enduring legacies in rugby.
Brad Thorn did but even he had to have two goes at it. He struggled to make the conversion initially and, even as he became more familiar with rugby, he was quick to head back to the Broncos in 2004 and reunite with a code that was in his blood.
For all that Sonny Bill Williams claims he's honouring a handshake made five years ago, he may be returning to the NRL because it's where he feels he belongs. He has commitment issues and that's partly because of the memory of the five-year contract he broke and partly because while he may have been kissing rugby these past few years, he was thinking about league.
Rugby is tough to crack - more different to league than it may at times appear.
Pass, catch and tackle are common to both but rugby's continuity and set pieces make it a different beast.
Rugby is a game that can take an age to permeate - years of playing and following to understand the nuances, the tactical ebb and flow, and real pressure points.
Unfortunately for most league converts, they don't necessarily have the luxury of time. At the core of most high profile defections has been money. Union, perhaps still bitter about the way league pillaged in the late amateur era, has been keen to flex its newly acquired financial muscle in the professional age.
Wales, England and Australia have at various times aggressively chased league players. The Welsh went after Iestyn Harris at the turn of the century, about the same time England had Jason Robinson and Henry Paul on their radar and the Australians were courting Mat Rogers, Wendell Sailor and Lote Tuqiri.
Robinson was the only man to stick it out, to give his soul to rugby. The rest got rich but will never feel they settled or delivered all that was promised and that, deep down, league was always their preferred code. Some serious cash was splashed to lure these men to rugby and with enormous salaries came enormous expectation. Most, maybe even all of these high profile, highly paid recruits were destined to fail: they had so little time to justify the expenditure and unfair pressure heaped on them.
No one felt that pressure more than Harris, who signed for £400,000 ($800,000) a season - which made him one of the best paid players in the world; he was then hailed as a saviour by the Welsh Rugby Union before he'd even played a game. Rushed into the test team a month into his career, Harris made his debut at first five against Argentina in 2001 and was out of his depth, culpable in a 30-16 defeat.
"We've got to start somewhere with Iestyn," was Wales coach Graham Henry's take after that difficult night. "It wasn't the most positive display but he will get better."
He never really got much better and Harris was back playing league two years later - despite signing a four-year deal. His story was typical of those converted in that era:
Rogers, Sailor and Tuqiri all had periods of success in rugby but all were pulled back to the NRL without really fulfilling their potential in rugby.
The latter two in particular gave the impression they were never sold on the 15-man game - that they came across for the money and regretted it.
Both endured multiple issues off the field and both suffered the indignity of having their contracts terminated. The NRL took them back and returned to familiar territory, where neither has been in trouble.
In Australia, there tends to be a marked division between the two codes: rugby's roots in the private schools giving it a white collar vibe and league very much still blue collar. Tuqiri and Sailor and to a lesser extent Rogers and Harris seemed to feel more of a cultural affinity with the 13-man game.
Unrealistic expectations and difficulties adjusting to the technical, tactical and cultural differences of rugby have been the key reasons converts haven't lasted.
Related to all this has been the problems rugby coaches have had settling on the right positions for their league recruits.
Rogers, Harris and Paul were used across the backlines of their respective clubs and countries and no one was ever sure where they were best suited. The most difficult man to place was Andy Farrell, the Great Britain captain who was poached by the RFU in a joint venture with Saracens.
The two of them conjured £500,000 ($1 million) - enormous money for anyone and almost ludicrous for a 31-year-old with dodgy knees and no rugby experience. They then bickered about Farrell's best position. The RFU saw him as a second five-eighths, yet his club were going to pick him at blindside.
"Everyone is saying we should pick Andy at 12 but he tends to run across the field and that is the worst trait a centre can have," said Saracens director of rugby, Alan Gaffney.
The RFU won out and Farrell made his England debut at second five, winning a total of eight caps without ever impressing.
That Farrell - a candidate for the greatest British league player of all time - was unable to make much of an impression converting at 31 makes Thorn's achievement beyond comprehension.
He was almost 33 and became one of the best tight locks in the world game and a core part of the All Black World Cup campaign. In the nicest possible way: he's not normal. Thorn may last the test of time and be seen, even three decades from now, as the greatest cross-code player of all time.
Perseverance was his under-appreciated quality - he hung around, albeit through two stints, to overcome issues of expectation and discomfort attached to being part of an unfamiliar code. All that and an incredible ability to swallow his pride and accept humiliation as part of the conversion package.
He'd been a star of the NRL, a title winner with the Broncos and yet, when he joined the Crusaders in 2001, he was almost at remedial status in terms of the set piece,
having to be shown how to do things by the team juniors.
As he revealed to the Herald in 2009: "I arrived [in New Zealand] with three goals: to see if I enjoyed rugby, to see if I was any good at it, and to see if I enjoyed living in New Zealand. And for the first six months the answer was 'no' to all of them."
The same was true of Williams, who reportedly confessed to being initially bored by rugby and his lack of involvement compared with the hit-it-up, high-octane world of league.
The parallels between Thorn and Williams are many: they were roughly the same age when they switched codes, both rushed into the test side with indecent haste (although Thorn initially declined his selection in 2001) and both took the better part of two seasons to show true glimpses of their potential.
Their respective paths now have a similar kink in that Williams, just like Thorn, is returning to league just as he's beginning to get the hang of rugby. Whether their paths remain intertwined depends on whether Williams is genuine in his claim he's open to a return to rugby. He's believed to be reticent to leave the Chiefs, a point he conceded when he announced his departure.
"I didn't think I'd love it as much as I have here. To be honest, I feel I've found my place here at the Chiefs, with the boys, but it just goes back to I've given someone my word. This was a while ago and I've had to go on with that, even though it's tough.
"It's a pretty difficult situation, but I just have to make the most of it. If all things go well, I will be playing league next year. I can't start that with this [regret] at the back of my mind, I've got to start fresh and give it my all."
Thorn showed that it is possible to return to rugby and pick it up quickly in the second stint. Williams, given his range of athletic abilities, professionalism and willingness to learn, could no doubt do the same: be back with the Chiefs in 2014 and an integral part of the All Black team that bids to defend the World Cup in 2015.
For his time in rugby to carry a sense of potential fulfilled, he has to come back, otherwise he'll be hard to differentiate from Tuqiri, Sailor, Rogers and Harris.
1 Brad Thorn
Was a lumbering liability at first and not suited to playing No 8. The switch to lock suited him better and, by 2003, he was coming good. When he came back in 2008 and played under the ELVs, he was phenomenal. Mastered the set piece and the tight components of the game and added mobility, ball-carrying and thunderous tackling to the mix. Was the best tight lock in world rugby in 2010 and 2011.
2 Jason Robinson
A bustling wing with Wigan, Robinson had a short stint in 1996 with Bath. He returned in 2000 to play for Sale and was quickly and deservedly selected by England and the British Lions. Had electric pace off the mark and could beat men in confined space. He read the game well from wing, fullback or centre and won 51 caps for England, scoring 28 tries, and five Lions caps, scoring two tries.
3 Sonny Bill Williams
Has found his rhythm this year and learned much about the game. Freakishly skilled and capable, he's delivering every time he plays as a consequence of his tactical and technical understanding. Has developed a kicking game and an astute ability to be in the right place at the right time on defence. Scored a miracle try against the Crusaders nine days ago.
4 Andrew Walker
The hugely talented Walker battled alcohol issues all his career and his appetite for scandal often overshadowed his contribution to the Brumbies and Wallabies. Was happy anywhere in the back three and could do the lot - but won only seven caps and lasted only a few years in rugby, but they were entertaining and memorable.
5 Chris Ashton
Has made himself famous with his trademark swan dive which, although highly irritating, does highlight how often he scores tries for England. Has given England finishing power since he switched codes in 2007 - proven by his record of 15 tries in 23 tests.
6 Mat Rogers
A talented operator who was comfortable at fullback and wing and just about comfortable at first five-eighths. Rogers had obvious skills both as a runner and passer and also a kicker. Injury reduced his involvement for both the Waratahs and Wallabies. He won 45 test caps and scored 163 points.
7 Alan Tait
Alan Tait played for Scotland at the 1987 World Cup and then switched to league at the age of 22. He returned in 1996 when rugby went professional and within six months he won a place with the British Lions and became a central figure in the Scottish midfield. Formed a deadly combination with Gregor Townsend and John Leslie, helping Scotland to win the last Five Nations in 1999.
8 Lote Tuqiri
A bit like Walker, off-field issues often overshadowed Tuqiri's contribution. A huge man, he could be unstoppable on the charge and was an agile and astute defender. Scored 30 tries in 67 Wallaby appearances but there was a feeling he never quite got the best out of himself.
9 Berrick Barnes
Had one year with the Broncos and then joined the Reds, where his composure and all-round five-eighths skills were obvious. Has always been a good reader of the game and a calming influence for the Wallabies, even if he has been relegated to bench duty for the latter part of his career.
10 Lesley Vainikolo
The Auckland-born Tongan has played rugby for England and, while he hasn't cut it at that level, he's been a consistently good performer for his club.