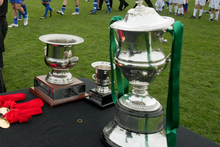 The Chatham Cup knockout football competition is one of New Zealand's longest running national sports events, having been contested annually since 1923. Tradition dictates that when your club is knocked out, you follow the fortunes of your victors - and in turn their conquerors - all the way to the final.
Join us on our own Cup odyssey this year, as we report on cup fortunes in a similar vein. We started with first-time entrant Hamilton's Clube Alegria in the qualification round, who were beaten 2-0 by Westlake Boys High. We then followed the schoolboys as they overcame Drury 4-1 in the first round, then Manurewa 7-2 in the second before their run ended with a 2-0 defeat to Birkenhead. We'll now keep following Birkenhead's path (or whoever beats them) through to the final on August 25-26.
Qualifiers: Clube Alegria - New kids face off against schoolboys
First round: Big school vs little club
Second round: Divided loyalties
Third round: How good are Westlake Boys High?
*****
Birkenhead striker Bill Tuiloma hopes to cap a break-through week in his football career by leading his first division club past Hamilton Wanderers and into the Chatham Cup quarterfinals this weekend.
17-year-old Tuiloma found out on Tuesday that LA Galaxy want to sign him on a three-year contract when he turns 18 in March.
However the ambitious teenager - who was with Waitakere United in the summer - plans on using the offer as a 'back up plan' - only to be visited if earlier impending European trials don't work out.
But at the forefront of Tuiloma's mind at the moment is the biggest match in the history of his club - a sweet 16 Chatham Cup home tie against a top-four premier league side in Wanderers on Sunday.
It's no surprise that Birkenhead coach Paul Hobson sees Tuiloma as his not-so-secret weapon in the clash.
"I think his best position is somewhere toward the right or left as a high fullback, but he's our best finisher and unbelievable in the air, so we play him up front," Hobson said.
"Sometimes we lack a little quality in front of goal which Bill has provided. He's got something special. He does things sometimes and you just go, 'Oh welcome to the next level'.
"I've coached him since he was a little kid, and for me that's the biggest achievement we have had."
Birkenhead overcame Westlake Boys High 2-0 in the third round in a match Hobson described as the most one-sided 2-0 win you could ever get.
"Westlake didn't have a shot all game and I think 6 or 7 would have been about right. They battled really hard in the first half and did their school really proud I thought.
"But at the same time they make a big fuss about school football, but at least try and play. Don't just launch it every time you get it, and that's what they did. I was a bit disappointed in that."
It is the third consecutive year that Birkenhead has made it to the last 16, bowing out to Glenfield in 2010 and Manurewa last year. Should the North Shore based side win, it will be the furthest they have ever gone in the cup.
"This is the biggest game we have ever had. We played Glenfield on the weekend and it was hard to get excited about this game because the league is more important, but in the back of your mind it's kind of not."
Hobson said he was happy with their home-draw and hopes the 600 people that turned out to watch the win over Westlake come back on Sunday when he faces a tall task against Wanderers who currently sit fourth in the Northern Premier League.
"I went to watch them last weekend, I thought they were workman-like. On our pitch which is quite small they might be quite hard to break down.
"From what I remember about Hamilton from when I used to play them back in the day is that they used to try and play a bit, and in more recent years they don't, which eliminates a lot of risk and probably is one of the reasons they have done so well."
Wanderers skipper Ricky Broderson is in his third season with the Hamilton-based outfit and said this is far and away the best season Wanderers have had.
"When I first got here it was a bit Mickey Mouse with players travelling from everywhere and there was no consistency in our training. In my first season here we were terrible, we only just survived but those players stuck around and their confidence has grown and everyone has got better.
"Last year was another stepping stone for us and this year we have been performing above expectations.
"Wanderers is a small club and our main concern is normally staying up in the top league, but this year we are looking at a top four finish and that would be fantastic.
After years of living in the shadow of cross-town rivals Melville United, Broderson is frustrated at the lack of publicity his team is receiving from the Hamilton media.
"Every headline is Melville, Melville, Melville and we are sick of it. We are actually having a decent season for a change but we are not getting any coverage which is pretty annoying."
At 26, Broderson is the second oldest player in the Wanderers squad, behind former All White Che Bunce who is likely to feature this weekend.
"Buncey has only played one full game this year but I would imagine he will start this weekend for us in a defensive midfield position."
Broderson is no stranger to Chatham Cup heartbreak, reaching the semi-final on three occasions with East Coast Bays, and losing to Central on penalties each time.
"In true Wanderers spirit I know that the bus trip home will be very good if we win. A few of us have already warned our bosses that if we win we won't be coming into work on Monday so we have that angle covered."
While this is Wanderers' best season since they made it to the quarterfinals in 2007 (losing 3-1 to North Shore United) they won't be able to rest on their premier league laurels at Shepherds Park.
They needed an early penalty to get past non-league Waitemata in the previous round and can expect an even tougher contest against opponents who are perhaps too slick to be considered underdogs, despite being a division down.
Birkenhead should present quite a contrast in style to Wanderers with their crisp passing game.
They will play with the natural confidence which comes from being unbeaten all season, be buoyed by a feisty home crowd, and take inspiration from the opportunity of taking the club into unchartered waters.
And of course they also have Tuiloma - their not so secret weapon - eager to live up to his growing football profile.
Birkenhead United v Hamilton Wanderers -
Sunday June 8, 2pm
Shepherds Park
Tracking the Chatham Cup:
Qualification: Clube Alegria 0 - Westlake 2
Round One: Drury United 1 - Westlake 4
Round Two: Westlake 7 - Manurewa 2
Round Three: Birkenhead 2 - Westlake 0
Follow Steven Holloway on twitter.
By Steven Holloway @Shollow1

Email

Steven