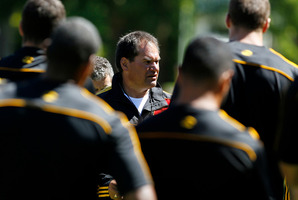 When golfers smash the ball off the straight and narrow they try to convince themselves trees are 80 per cent air.
Rugby coaches do not need similar hope when they assess their match prospects. Sides are roughly similar in physical ability in the Super 15 and that counts for a foundation to build on. Tactics, match savvy and mental sharpness tot up to about 80 per cent of any side's package and how dynamic they will be for their next challenge.
Those mental-chess ideas have been percolating through the Chiefs and Crusaders as they prepare for tonight's duel at Waikato Stadium in a match with huge consequences for both teams.
The Chiefs have qualified for the playoffs but have the Crusaders and Hurricanes ahead, blocking their search for top-team status and a home draw for the finals. The Crusaders will bank on victory in the final round against the Force, but that may not be enough to secure a lucky-loser berth in the six-team playoffs.
They are a tight group, men committed to the cause, whose lives have changed forever since the earthquakes devastated their city. They have a unified purpose and bring a stoic attitude to their game; a bearing which is a product of their environment. They will be like men in the trenches tonight: prepared to grind their way to their target, to meet and overcome any obstacles the Chiefs put in their way.
"It's awkward at times in Christchurch but we are what we are," coach Todd Blackadder said. "The reality is, it's cold and it's wet and there's earthquakes everywhere so it's not the most exciting place on earth.
"Life's a bit boring but it is what it is. We are up for this contest though."
So too the Chiefs, who have suffered only two defeats this season. They began with a loss at home to the Highlanders and endured a mid-comp defeat to the Reds. They took out the Crusaders 24-19 in Napier and now set themselves for the rematch in Hamilton. Coach Dave Rennie likes the Chiefs' approach to the contest. The mood has been strong and up a level from last week's competition resumption.
"They are a really buoyant bunch," he said. "We can have days when we really flog 'em and they bounce back the next day and are all cheerful and happy.
"They enjoy each other's company and they are bloody hard to squash and that has been really good.
"They are working hard, they understand the difference between when they need to focus and when they need to relax so that has been really good.
"They are certainly looking forward to playing in front of a big home crowd and playing against a team that is chock full of All Blacks."
Several other coaches would like to tap into the Chiefs' recipe as they have disproved the theory that it takes several years to build a team.
In their opening year together, Rennie, Tom Coventry, Wayne Smith and Andrew Strawbridge have chosen and moulded a group who have shaken the tournament and probably surprised their strongest supporters. They have rolled on and continued to get results. Team performances and individual skills have promoted Brodie Retallick and Sam Cane to the All Blacks and Tawera Kerr-Barlow and Ben Tameifuna to the cusp of that honour. Success has bred success.
The Crusaders have reclaimed their All Blacks but that is no recipe for automatic results. Talent, said Blackadder, got a side only so far. If their rivals were more passionate and committed that brought a much different dimension to a match.
Reclaiming Israel Dagg, Daniel Carter and Kieran Read from the casualty list was a huge boost and they had not been out long enough to get rusty.
Blackadder had watched the Chiefs build their progress and had been mightily impressed by their transition - how they built their style on defence and then nailed opponents when they earned a turnover.
"They are the best at it, there is no doubt about that."
This game could end up being a case of whether the Crusaders forwards could quell their opponents and whether the Chiefs backs got enough space and possession to taunt their rivals.
"They will try and get on top of our forwards and we will have to nullify their backs, that will be the game," Blackadder suggested.
The Crusaders were not nervous after last week's hiccup. They did not have their ruthless edge but this match was a completely new challenge.
"We have to bounce back and we have. We are coming up against the best and not only are they number one but there are so many good matchups. However, I think our boys are in the right space for a big game."