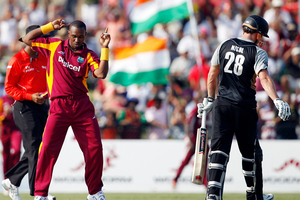 They were thumped by the West Indies and lost three players to injury, but Jacob Oram, one of the wounded, has surprisingly described the Black Caps' mood as one of excitement rather than despair.
New Zealand's Caribbean tour got off to the worst possible start in Lauderhill, Florida, when they lost the first Twenty20 international by 56 runs with Oram, Ross Taylor and Ronnie Hira among the casualties.
The Black Caps now have to pick themselves up for tomorrow morning's second T20 where they will be without Hira, who will be sent home, and captain Taylor. Oram is also in doubt for the match.
Hira suffered a nasty dislocation to the middle finger of his left hand while attempting to haul in a Chris Gayle thunderbolt from his own bowling, Oram jarred his knee while sliding in the outfield, and Taylor injured his shoulder going for a catch as the Black Caps' bowlers allowed the West Indies to piled up a record 209-2.
Hira did not bat after being taken to hospital, while Oram battled at the crease on one leg and Taylor was forced to retire hurt during New Zealand's futile chase, which eventually ended in the 19th over with the score on 153.
Taylor has been diagnosed with a grade two AC joint injury and will miss today's (Monday's) match and the early part of the One Day International series against the West Indies.
Despite the damage - both physical and mental after being the victims of an onslaught from Gayle and Keiron Pollard - the squad were not feeling sorry for themselves.
"It's funny - it's almost the complete opposite,'' Oram said. "That's not to say we're happy, because we're far from happy and we're not satisfied.
"But the mood in the dressing room was one of quite a bit of excitement. The fact we can go out there with a short turnaround and turn it all around tomorrow and actually show that we can play.''
Oram attributed that attitude to an underdog mentality that was only fuelled by today's result and the walking wounded which came with it.
"Before the series most people were saying the West Indies were strong favourites,'' he said. "We talked about, as complete underdogs, there's not a hell of a lot to lose - obviously, apart from the match - and guys may get a bit of motivation from that.''
They certainly will find none from their efforts in today's loss. An insipid bowling and fielding display allowed Gayle (85 from 52) and Pollard (63 from 29) to almost put the match out of reach at the halfway point.
New Zealand bowled 13 wides and three no balls during the West Indies' innings, while both of the chief destroyers were given an extra life as the tourists missed a stumping, a run-out and a catch.
Oram was perplexed by the failure to execute the "little things'' on which the side usually pride themselves, but backed the Black Caps to turn that around.
"Extras are going to kill you. In a 20-over match, to give away three extra overs is criminal,'' he said. "It's things like that we can tidy up - I suppose you could call them one per centers - we can get a lot closer to this West Indies team who, at the moment, probably think they're pretty comfortable and confident going into the series.''
That confidence was bred by recent series against Australia and England - a stark contrast to the Black Caps who haven't had a taste of international cricket since the conclusion of South Africa's visit in March.
"I think it's, unfortunately, a tale of two sides, really,'' Oram said. "We can use a lot of factors and reasons for not playing well today - a small preparation could be one of them - but we just didn't play well today and we got beaten comfortably by a side who just did things a lot better than us.''
- APNZ