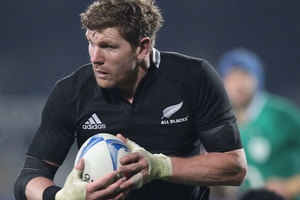 Adam Thomson says he has been hearing it for 10 years.
And he ain't going to be changing now.
Thomson is back in Highlanders country and ready to suit up for the side in its must-win encounter against the Chiefs at Forsyth Barr Stadium tomorrow night.
The 30-year-old loose forward played in all three tests for the All Blacks against the Irish, helping himself to a couple of tries and getting around the park.
But that did not stop the critics launching into a familiar pattern: he was too lightweight for the position, did not have the bulk and enforcement skills to play the modern blindside flanker role in international rugby.
It is water off a duck's back for Thomson.
"That is nothing I have not heard in the last 10 years of my career," he said.
"I'm my own person and that is the way I play the game. If that suits the All Black style so be it. If it doesn't, it doesn't.
"The coaches just want to carry on my Super Rugby form. They were happy with my form at the start of the year and it has got a bit tougher as the season has gone on. In test match rugby you always want to work on your physicality in your game. That has been the one major work-on for my whole career, really.
"Things do not change much. And I have been long enough now to know they aren't going to change."
Thomson said it was great to be back in the black jersey and under new coach Steve Hansen.
"It is a different environment. He [Hansen] wants to put his own brand on things. We wanted to push things on from what we achieved last year and the way we played in that final test, I think we did."
Thomson started the middle test in Christchurch, where the All Blacks struggled to finish ahead of Ireland. He came off the bench in the other two games.
"The conditions in Christchurch were a bit different. It was freezing and that made it difficult.
"We laid the platform in Auckland and then maybe we got a bit complacent in Christchurch... it was a combination of things. The Irish played a hell of a lot better. And when things started going their way they got a bit of a roll-on.
"Obviously with the conditions I would have liked to have played in the first and third ones more than the second one, but that is how it works out sometimes. Unfortunately you do not get to choose what test you get to play."
Thomson has taken a very limited part in training with the Highlanders this week, as he rests a tired body.
He suffered a broken nose early in the All Black campaign and has received a few whacks on it since.
"I've had about three or four knocks in the past few weeks. It is broken and breathing is a bit of a problem. The snoring has gone up a few decibels... I got put with other snorers in the side."
But he is confident he will front against the Chiefs tomorrow night.
"The guys are all excited and by all reports have been working hard. We have got a sniff of the finals and we want to make the most of that.
"The Chiefs have set the standard this year and if we can knock them off and then go over to Brisbane and take the Reds, that will give us a chance."