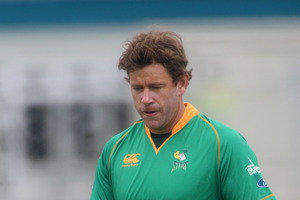 Jake Oram. Photo / Wayne Buckland
Senior allrounder Jacob Oram wonders if New Zealand might be able to steal an underdog march on the West Indies when their Caribbean tour starts early on Sunday morning (NZT).
While their hosts are in full match mode, having had recent test series against Australia and England, New Zealand last played an international match at the end of March.
Several New Zealand players were involved in the Indian Premier League, batsmen Kane Williamson and Martin Guptill had county cricket deals, but collectively they are skinny on hard match practice.
"They might look at our team, without the likes of Brendon McCullum, Dan Vettori, Jesse Ryder and think we are a bit weaker and I think maybe that's where we can expose them," Oram said.
"They may get complacent, a little over-confident and hopefully we can expose that."
Bristling opener McCullum is being rested; former captain Vettori is, like McCullum, not arriving in the Caribbean until the tour-ending two test matches, while talented but erratic batsman Ryder was not picked on the back of end-of-season issues on and off the field last summer.
The tour starts with a brace of T20 internationals in Florida on Sunday and Monday. New Zealand, who were as high as No 2 on world rankings in that discipline a few months back, are now at No 4, five spots ahead of the West Indies.
Oram still rates their hosts a decent outfit, who competed well against both Australia and England, and without some of the best players due to IPL commitments.
Now the likes of Chris Gayle, Dwayne Bravo and Kieron Pollard are back, undoubtedly strengthening the West Indies squad.
"They have their strengths but we need to find their weak links as well," Oram said.
With the world T20 coming up in Sri Lanka in September, there will be just two preparatory games after this tour, boht in India shortly before the tournament. So it is essential New Zealand hone off the rough edges of their short form game smartly.
"I don't think the winning and losing of this match, or series, is important. It's finding out how to play a good brand of cricket leading into the World Cup," Oram said.