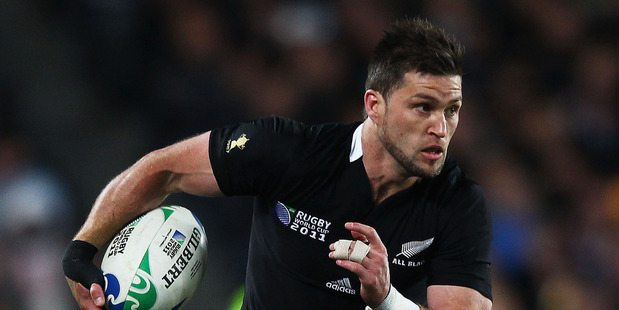 The magical properties of the All Black jersey and its famed ability to help occupants grow an extra arm and leg have already been witnessed in 2012.
It is, still, New Zealand's greatest weapon that they can rely on the test arena to bring the best out of their best players.
Something happens when players come into the All Black camp - the stuttering become the assured; the vague become the certain.
Look how Israel Dagg came to life at Eden Park. By his own admission, the Crusaders fullback had been frustrated with his lack of Super Rugby form.
Daniel Carter went from playing at 70 per cent to 90 per cent and Richie McCaw, however much speculation exists about his longer term prospects, was remarkably effective.
Coach Steve Hansen has been adamant since early May that the risk in selecting genuine underperformers such as Ali Williams, Keven Mealamu, Piri Weepu and Ma'a Nonu is not as significant as it appears.
Woefully short of form and confidence, there's a good argument to be made they shouldn't have been picked for the national side. It is, after all, not a finishing school.
But the All Blacks have this curious and enviable ability to drive the best out of class players. That happened with Cory Jane last year; it has happened with Ali Williams in the past and may again this year. Richard Kahui went from bumbling shadow with the Chiefs in 2010 to global superstar with the All Blacks.
The transformation in each case is quick, dramatic and effective. Part of it may be emotional: this is a jersey that has deep meaning to many of the occupants. Its lure is almost impossible to exaggerate.
Many of the current team have turned down enormous financial rewards to play elsewhere. They have made a sacrifice to play for their country and that is a powerful motivator.
When Carter and McCaw signed on for four more years last year, then coach Graham Henry said: "These guys want to play outstanding rugby still and the only way they think they can do that is to wear the All Black jersey because that brings the best out of them. You talk to leading sportsmen around the world and they say it is very important who you are playing for. If you want to be inspired and play at the top level, you have got to wear a jersey you have respect for. That's what these guys are doing."
There are tangible aspects that account for this phenomenon as well. Adam Thomson, who came into the starting XV last night for the injured Victor Vito, explained during the week that he felt it would be relatively easy to adapt his game to fit into the team patterns.
When he plays for the Highlanders, he roams free - is seen as much on the wing, maybe even more, than he is round the fringes of the ruck. He plays a ball-in-hand game, looking to use his pace and ball-carrying instincts in the open spaces.
But, as he explained, he does that in Super Rugby because he has to: his brief there is wider. The senior players at that level have to offer a bit of everything - they must complete their core roles and then add a bit more. In the national set-up, there is no such requirement.
"When you come into the All Blacks, the beauty of it is that you have world-class players all around you and you just have to do your job," said Thomson.
"For me, that's defend, lead the defence, be physical at the breakdown, grab turnovers if the opportunity is there and carry hard.
"At the Highlanders, your vision widens a bit more, you try to cover more."
Carter, too, spoke of the need to keep everything simple - the requirement for the plan to be clear and achievable.
It's all about core roles - do them and trust team-mates to do their bit and the whole thing will piece together.
It all sounds so easy but it's not. The All Blacks are the envy of Ireland in the way they can come together effortlessly and meld into such an effective unit.
Ireland, on the other hand, struggle to harness their potential. Leinster and Ulster were in the final of the Heineken Cup and Munster the quarter-final - the Irish are Europe's powerhouse at provincial level.
Yet, for all the class and dominance of Leinster, Ulster and Munster, Ireland are ranked eighth in the world.
Their ability doesn't come through in green jerseys and the lament is that their best players deliver world class performances for their provinces but not always for their country.
"It's not as straightforward as people think," says Irish No 8 Jamie Heaslip. "We have to bring four different teams with different ideas and styles together in a short space of time.
"The onus is on the players to take control of their own game and their own errors and the way they impact upon the game and not to be caught up in what you do with your club."