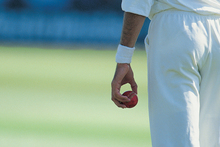 Fast bowlers will be delighted, spinners less so by one of the key ODI recommendations from the International Cricket Council's powerful cricket committee.
If the committee's recommendations from its meeting in London are approved by the ICC at its annual meeting in Kuala Lumpur late this month, the quicks will be allowed two bouncers instead of one per over in ODIs, but teams lose one outfielder - down from five to four - outside the 30m circle for all non-powerplay overs.
While the first part of that plan helps redress the imbalance of batsmen knowing they can plan their attack with front foot intent for the rest of a seamer's over once the solitary bouncer is out of the way, spinners should worry at the second aspect.
It means one less area can be covered when batsmen are on the charge. Spinners will be more vulnerable to the slog approach and on the larger outfields, such as the Melbourne Cricket Ground, could find themselves scratching their heads, vainly plugging gaps only to expose another large section of turf.
Last year the committee brought two changes in for ODIs, a new ball at each end and compelling teams to take powerplays between the 16th and 40th overs, the latter in a bid to spice up that often-dreary period of quiet accumulation through the middle of an innings.
The committee believes while the new ball change has helped, the powerplay alteration has made little difference. So it is recommending powerplays be restricted to the first 10 overs of an innings plus one five-over batting powerplay by the 40th over.
"The changes will help enhance what is still an exceptionally popular form of the game," the ICC general manager of cricket, Dave Richardson said.
That is debatable. Indeed the ODI game is becoming a problem child for the game's rulers, sitting in no-man's land between the five-day test game and the noisy youngster, T20, save that the four-yearly World Cup keeps it relevant. The next cup is in Australia and New Zealand in 2015.
The committee includes former international players and representatives of a range of cricket parties. New Zealand chief executive David White is the board's representative on the committee.
In other developments:
* The ICC committee has decided to stick with the Duckworth Lewis method of calculating rain-affected matches, and rejecting an alternative Indian proposal.
* Opened the door for countries to trial day-night tests should both parties wish.
* Reiterated its belief that the Decision Review System should be implemented universally in test and ODI cricket, subject to financing the technology.
Meanwhile, there's no Boxing Day test for New Zealand on their tour to South Africa at the end of the year, replaced instead with a T20 international in Port Elizabeth. The tour contains two tests, at Cape Town and Port Elizabeth, three T20s and three ODIs, and runs from December 18-January 25.
By David Leggat

Email

David