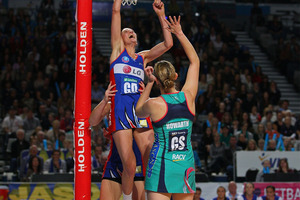 The Northern Mystics are seeing the rewards of their players' innovation.
The Mystics weren't expecting to be able to sell-out Sunday's ANZ Championship game against the bottom of the table Canterbury Tactix.
But Mystics chief executive Julie Paterson says there's been a strong spike in ticket sales since the "Harrison hoist" was introduced last week.
"We normally have reasonably strong casual sales leading up to a game but we're miles ahead of where we would normally be. I'm a little worried that people that are holding off until Sunday to walk up and buy their tickets on the day are going to miss out."
Paterson says only a few hundred tickets are available for the 4500 capacity Trusts Stadium.