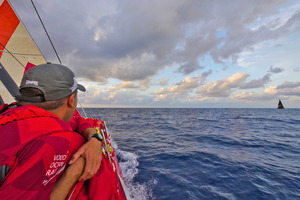 Camper are already playing catch-up just 24 hours into the seventh leg of the Volvo Ocean Race and are now racing to pick up a frontal system that could hold the key for line honours.
The Team New Zealand boat is fifth, 59.3 nautical miles behind leaders Groupama who timed their turn east towards the next pit stop in Lisbon, Portugal, to perfection. Puma, who won the last two legs, are second 38.3 miles behind Groupama.
The fleet have been battling with tropical storm Alberto since their departure from Miami, with speeds sometimes bordering 30 knots. They were also being propelled north by the Gulf Stream current which, at times, added three knots to speed over the water.
Groupama took a conservative approach, gybing to the east rather than head for the stronger winds close to the centre of the storm, and it paid dividends as they turned a slim advantage into a comfortable lead.
Puma took a more northerly route but were forced to tack back to the southeast to get out of the worst of the weather while overall leaders Telefonica and Camper took a middle path that kept them safely on the fringes of the storm.
Camper are now travelling at a more leisurely 11.8 knots.
Paramount now for Camper is catching up with a frontal system that could deliver them across a high pressure area. Any boats that arrive late and miss it will most likely be forced north towards the ice exclusion zone near the eastern tip of Canada to wait for the next front to develop - a costly detour that could add two or three days to the leg.
Camper believe they will make it far enough east in time to pick up the front and stay in the hunt for the lead but for all the trailing boats it will be a near run thing.
"We are quite a bit further advanced than the models predicted, and we have more breeze," Camper navigator Will Oxley said. "It was a tricky transition heading east and Groupama did a much better job of it than everyone else and managed to get away from the rest of the fleet.
"The rest of us were a bit slow in gybing across and are now playing catch-up. The main thing is that we need to pick up the front developing to the east otherwise Groupama will get a real jump on everyone.
"It wasn't to a bad a first night all things considered and everyone has settled back in well. It's going to be an interesting leg."
Just 14 points separate Telefonica from fourth-placed Puma in the overall standings and, with 30 points on offer to the winners of each of the remaining three offshore legs, the seventh leg is going to be critical.
- APNZ