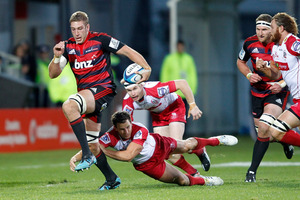 Crusaders 15
Reds 11
This curious Super 15 season just got a little more weird yesterday as a hopelessly out-of-sorts Crusaders relied once more on the boot of Tom Taylor to eke out a victory.
The Crusaders defeated the Reds 15-11 at Christchurch in a re-run of last year's final. Unless they find a stunning form reversal in their remaining six matches, the Reds will not go back-to-back - and on the evidence of yesterday, the Crusaders will be fortunate to add to their seven titles.
For a team that is expected to provide a large chunk of All Black coach Steve Hansen's first squad, the Crusaders are wobbling like a unicycle with a buckled wheel.
After threatening to return to their best with a gritty win against the Stormers and a thumping of the Hurricanes, they've been brought back to earth with lacklustre performances against the Waratahs and Reds.
They will rightly point to the fact that they are winning matches, accumulating points and positioning themselves for a title tilt in July and August, but that only partially obscures the fact that at times they have looked ordinary.
Yesterday was one of those occasions, right from the kickoff, in fact, when they conceded possession and a try to Reds hooker James Hanson.
A team that can - at their best - make the ball talk, looked inarticulate.
With four All Blacks in the backline and one other, Robbie Fruean, who is arguably the best current player never to have won a test cap, the Crusaders were forced to kick to survive.
A pack that started with six All Blacks and brought a notable one off the bench, was beaten to the punch at breakdown after breakdown.
Even their foundation stone, a dominant scrum, started to erode in the second half.
It was the breakdown where the Reds got most of their joy and, paradoxically, where the Crusaders might have found most of their hope.
"It's a big thing we focus on. We want to try to get guys on the ground," Reds' skipper James Horwill said.
"We know the Crusaders are very good there, also, and wanted to put a big focus on it this week."
Through the first 60 minutes, the Reds destroyed the home side at the tackle area, committing more numbers and turning it into the game's key battleground. The tide really only started to turn in the final 15 minutes, which, coincidentally, was when a certain Richie McCaw started to assert himself upon the game after coming off the bench with 35 minutes remaining.
It would be a stretch to say he looks sharp, but the tricks are coming back.
Just a coincidence, too, that the Crusaders looked more accomplished the more involved Dan Carter became.
Modern thinking suggests they're just numbers on your back and there's nothing to stop him stepping into first receiver, but the rugby public will feel a little better when he wears No 10 again.
Not that you can fault Taylor's work off the tee. He may not move through the gears as smoothly as Carter, but down 9-11, he nailed two crucial penalties in the dying minutes.
"We're just happy to scrape away with a win," said victorious captain Kieran Read, lamenting his side's lack of composure early. "Our performance wasn't there ... but we hung in there and got the right result."
The last bit was important. The Crusaders may be playing like a team with a faded aura but they've won seven from 10 and haven't lost since Easter.
Other teams are playing much closer to their potential and haven't managed that.
If there's one thing we've learnt: it's not enough to make them wobble, you've got to knock them down.