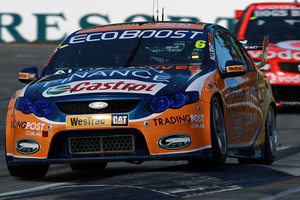 The fight for the 2012 V8 Supercars title is heating up after Ford's Will Davison landed a timely counterpunch on Holden rival James Whincup by claiming the Perth round's second race today.
The early rounds in WA went to Whincup after he leapfrogged Davison to reclaim the series lead with second place in Saturday's opening 120km event.
Rubbing salt to his wounds, Davison missed a chance to claim a seventh straight podium finish on Saturday after suffering suspension damage in a first lap bingle and limping home in 25th.
Whincup backed up on Sunday by claiming pole position for the round's final two 50-lap races.
But Davison dusted himself off to claim Sunday's opening event, finishing almost three seconds ahead of Whincup with Saturday's race winner Mark Winterbottom of Ford third.
Davison's fourth win of the year whittled down Whincup's series lead from 51 to 43 ahead of Sunday's Perth round finale.
A gamble to be just one of four drivers in the 28-strong field to start the race on the faster soft tyres paid off for Davison.
Starting third on the grid, Davison had reeled in Whincup and taken the lead by the third lap - at one stage enjoying a five second buffer on his Holden rival.
Whincup switched from hard to softs when he pitted after 25 laps and chipped away at Davison's lead but the damage had been done.
"I thought I had to do something different (by starting on softs)," Davison said.
"In the end I was thinking 'this is what it is all about' (as Whincup loomed).
"It was a nerve wracking finish but I kept my cool."
Three-time championship winner Whincup was defiant after the race.
"It was the same old story as yesterday. We were good but not good enough," he said.
"We have been No.1 for a while and we want that back. We are not going to let this one get away."
The Perth round's final race starts at 4.05pm (AEST).
-AAP