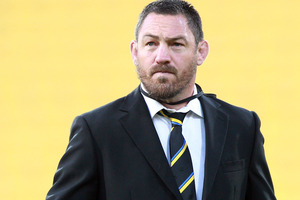 Having watched his side give up 75 points in their last two Super Rugby outings, Mark Hammett wants the Hurricanes to tighten up on defence when they tackle the Blues in Wellington tomorrow night.
The Hurricanes have had no problem running in tries and racking up plenty of points this season but they've conceded them at an alarming rate.
They give up an average of 30 points per game and only the Cheetahs (30.4) and the Rebels (30.1) let their opponents run riot on the scoreboard more than the Wellington-based franchise.
The Hurricanes were toppled 33-14 by the Chiefs last week in Hamilton, while the Crusaders hammered them 42-14 in the capital a fortnight ago.
"It's another opportunity," Hammett said of tomorrow's game against the Blues.
"We've worked pretty hard on the defensive aspect of our game. Pretty clearly we had some issues from set-piece. Some of it system-orientated and some of it individual.
So we've worked hard at that during the week."
The Blues have endured a forgettable campaign, winning only once in nine games to occupy last place on the Super Rugby standings.
After starting the season well, the Hurricanes have slipped off the pace and despite having home advantage and far higher team morale, Hammett tried to deflect the favourites' tag.
"I'm not sure if any team's favourite. I think we've both got challenges. I think our challenge is that we've come off [games] against two very strong sides that have beaten us for different reasons; so that's our challenge. Another challenge - like it will be for the rest of the year - is are we getting better each week, each month."
Tomorrow's game will see former Hurricanes Ma'a Nonu and Piri Weepu play for the Blues against their old franchise for the first time at Westpac Stadium.
Under-fire Blues coach Pat Lam has dropped first-five Gareth Anscombe from his playing 22 after telling the youngster a month ago that he was the man to lead his poorly-performing squad out of the doldrums.
Anscombe has been replaced by Michael Hobbs who has played his provincial rugby for Wellington and was educated at Wellington College.
Despite their shocking win-loss record, Hammett said the Blues were still a side his team had to be wary of.
"They're extremely dangerous and even though they haven't finished all the plays off that they'd like to they get over the advantage line and at times they seem to get over it with ease. So any team that can get over the advantage line like that and have the big ball-runners that they have are very dangerous. We've trained like they're going to be at their best and that's what we expect."
The Blues do boast a dynamic loose forward trio in the form of Chris Lowrey, Luke Braid and Peter Saili. The Hurricanes would do well to remember their defeat to the Cheetahs in Wellington in March, when despite holding a 21-point lead they were beaten due to the direct running of the big South Africans.
One statistic that might give the Blues a glimmer of hope is the Hurricanes are yet to win in three games at Westpac Stadium this season.
Follow Daniel Richardson on Twitter
- APNZ