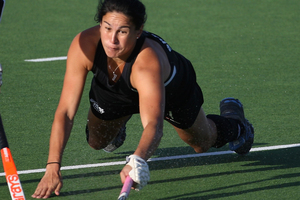 Australia has held on for a 3-1 victory over the Black Sticks Women in the final of the second series of the Four Nations tournament tonight at the Lloyd Elsmore Hockey Stadium in Pakuranga, Auckland.
Three early first half goals put the home side on the back foot and they never recovered to hand their transtasman rivals the second Four Nations title.
Black Sticks captain Kayla Sharland said it was disappointing to let Aussie in for three goals within a 10-minute period.
"It was promising that we came back in the second half and I think we definitely put them under the pump. We just need to go out and play like that from the start."
Against the run of play, Australia opened the scoring with two quick-fire goals to Ashleigh Nelson and Jade Close, and at the 14-minute mark they added a third to Georgia Nanscawen to stun the home side.
The Black Sticks had numerous chances to grab a goal back before the break but couldn't connect with that final pass, leaving the Hockeyroos 3-0 up at halftime.
The home side finally snatched one back 14 minutes into the second spell when Katie Glynn converted a penalty corner with a strong drag flick to the bottom right corner.
The goal sparked the Black Sticks into action and they had it all over the Australians but couldn't find the back of the net despite three further penalty corners and endless near misses.
Sharland wrapped up the team's frustration.
"We got a lot of opportunities but we just didn't finish them clinically enough."
In today's third and fourth play-off, 13th ranked India upset the USA 1-0 following their much-improved effort to draw with the Black Sticks yesterday.
RESULTS
New Zealand v Australia
Full time: 3-1 (Australia win)
Half time: 3-0
New Zealand goalscorers: Katie Glynn
Australia goalscorers: Ashleigh Nelson, Jade Close, Georgia Nanscawen
USA v India
Full time: 1-0 (India win)
Half time: 0-0
India goal scorers: Deepika
Goalkeeper of the tournament: Yogita Bali (India)
Player of the tournament: Madonna Blyth (Australia)
- APNZ