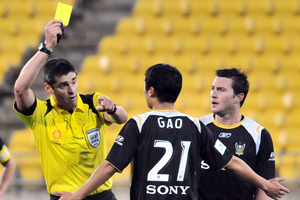 Peter O'Leary is set to add an Olympic Games to his already formidable refereeing resume after being appointed to the men's Olympic football tournament in London.
O'Leary will lead his Oceania trio - fellow Kiwi Jan-Hendrik Hintz and Ravinesh Kumar from Fiji are his assistant referees - among a total of 16 refereeing teams from 22 nations.
The Whangarei school teacher has already officiated at eight Fifa events including four club World Cups, two under-20 World Cups, an under-17 World Cup and the 2010 World Cup in South Africa where he was a fourth official.
Hintz, a trade manager in Auckland, is also becoming a veteran of Fifa events having run the line for matches at a World Cup, Confederations Cup, club World Cup and an under-17 World Cup.
For referees at London 2012, the tournament also represents the first step on the road to the 2014 FIFA World Cup in Brazil.
"It's another step on the journey to the World Cup, another chance for us to show what we've got at a global event and another opportunity for New Zealand to shine," said O'Leary.
The Oly Whites and Football Ferns have both qualified for their second Olympic Games and on Wednesday received New Zealand Olympic Committee ratification for competing in London. They find out who they will play at Tuesday night's draw in London.
- APNZ