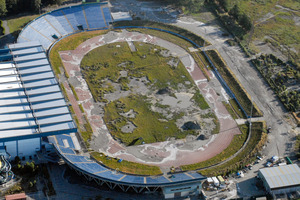 QEII Stadium was severely damaged in the Christchurch earthquakes and will soon be demolished. Photo / Geoff Sloan.
The home of the 1974 Commonwealth games will soon be no more, with confirmation that the QEII park and complex in Christchurch will be demolished.
The Christchurch City Council received a demolition notice from CERA for the ground's main stadium building, the covered stand and the north and south open stands.
It does not include the park's 50 metre pool which is in a separate building.
The complex - which was built specially for the 1974 Games - has been closed since last year's February 22 earthquake.

- APNZ