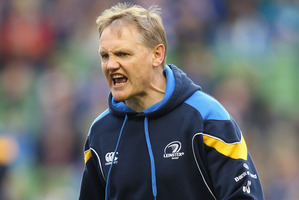 Could Joe Schmidt be about to make a dramatic return to New Zealand rugby?
However much some Kiwis might relish the prospect, the truth is, two factors stand in the way of any such move. Pat Lam's determination and potential to turn around a losing sequence with the Blues is the first. And the second is that Irish province Leinster will fight hard to keep Schmidt in Dublin.
There is good reason for that. Leinster have played the best, the most innovative, entertaining, and effective rugby anywhere in the Northern Hemisphere this season. The defending Heineken Cup champions, now preparing for a semifinal in this year's competition against crack French outfit Clermont Ferrand at the end of this month, have stood out for the quality of their rugby.
Schmidt is responsible for that. He is regarded as one of the top coaches in Europe, with the possible exception of another Kiwi, his old colleague at Clermont, Vern Cotter. Their meeting in the Heineken semifinal on April 29 will be a meeting of coaching masterminds.
Schmidt left Clermont and Cotter's side almost two years ago and in that time has taken Leinster forward, always a valuable criterion on the part of any coach. The quality yet simplicity of their rugby is a triumph: quick ball, clinically and efficiently procured, is the key to their game, just as it has been that of the most successful sides such as the Crusaders and the All Blacks.
But under Schmidt, Leinster have not just won ball - they have used it superbly. One of the tries they scored in the Heineken Cup quarter-final rout of Cardiff last weekend had the precision of a watchmaker's touch and the simplicity of an under-10s move. Yet it completely ruptured Cardiff's so-called professional defence because it was done at such pace, with support runners off the ball working at speed and the angle of the attack brilliantly turned to confound the defenders.
Schmidt would protest that little of what he does is rocket science, and he would be correct. It's just that such poverty exists in the world of Northern Hemisphere attacking rugby that Leinster's moves and philosophies stand out like a sore thumb.
But then, that is the genius of this New Zealander. He understands the value of simplicity but absolutely insists that whatever move is called, it is done with a precision beyond complaint.
The supreme irony is most of Schmidt's salary is paid by the Irish Rugby Football Union, chief funders of the Leinster province. So technically, he ought to be available to Ireland ... especially as none of the Leinster players who play for Ireland look anything like as good in an international jersey.
That's not because they're not good enough. Schmidt has transformed them, and made them look world beaters. The pity from New Zealand's point of view is that, right now it is highly unlikely he would be available.