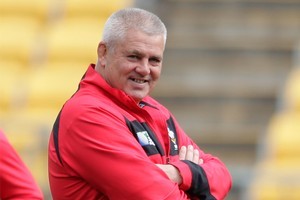 Welsh rugby coach Warren Gatland suffered serious leg injuries after falling from a ladder at his Waihi Beach home on Easter Monday.
The former All Blacks hooker and Waikato coach is in a stable condition at Waikato Hospital.
He reportedly tumbled 3m while cleaning windows and received multiple fractures to his right heel and a fracture to his left heel.
Gatland will have reconstructive surgery on his right heel, which will delay his return to Wales, and is currently in leg casts, according to walesonline.co.uk.
The 48-year-old is expected to recover in time to coach Wales on their three-test tour of Australia in June, although assistant coach Rob Howley will take charge in the interim.
Welsh Rugby Union chief executive Roger Lewis said: "We all wish Warren a speedy recovery from the injuries he has suffered in this extremely unfortunate accident."
Gatland fell on to concrete and took the full force of the landing on his heels, the website reported.
He fractured the calcaneus bones, otherwise known as the heel bones, in both feet.
A spokesman from the Wales Rugby Union said: "While in New Zealand, Gatland will continue to receive information primarily from Rob Howley, Robin McBryde, Shaun Edwards and Neil Jenkins as they observe and monitor squad players and potential players over the next few weeks.
"Further information gathered by the head of physical performance, Adam Beard, head of performance analysis Rhys Long, and national medical performance manager Prav Mathema will also be sent directly to Gatland.
"Assistant coach Rob Howley will oversee day-to-day management of the coaching staff in Wales and will play a key role in liaising between the Wales-based staff and the head coach during Gatland's temporary absence from camp.
"Team manager Alan Phillips will keep the head coach informed of all other squad preparation issues.
"The injury he suffered is not expected to have any major impact on the continuing preparations for scheduled Wales matches in June."
Gatland has been widely tipped to lead the British and Irish Lions on their tour of Australia next year on top of his commitments with the Welsh national team.
- APNZ