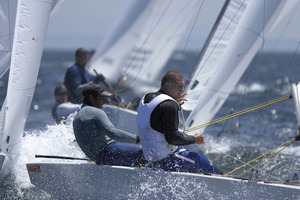 Hamish Pepper and Jim Turner are the best placed Kiwi crew after six rounds of racing at the ISAF World Cup sailing regatta for Olympic classes in Palma, Spain.
The Star sailors haven't yet qualified for London, and need a good result at May's Star class world championships to convince the selectors to take them to the Olympics.
A good result in Spain this week will do their case no harm and they have sailed a consistent regatta so far.
Pepper and Turner are fourth overall in the Star class after finishing in the top 10 in all but one of their races - they were leading the fleet for the first two days.
The regatta is the third of seven ISAF World Cup events for the season and the first European regatta of 2012 for the NZL sailing team.
Dan Slater in the Finn class is fifth overall but has recovered well after a black flag (over the start line early) in the first race positioned him down the leaderboard. That result has been dropped - sailors drop their worst result - and Slater has jumped up the standings.
Sara Winther in the Laser radial is 15th in the 89-strong fleet after a fourth and 11th overnight.
Jo Aleh and Olivia Powrie in the women's 470 started well, winning the first race, but have slipped down to the middle of the pack. Overnight results of a 17 and 20th did not help their overall standings much and they are currently 19th overall.
The women's match racing crew of Stephanie Hazard, Jenna Hansen and Susannah Pyatt finished the first round robin as fifth best of the nine crews in their pool but didn't progress to the gold round robin.
New Zealand's standings after day three:
4th: Hamish Pepper and Jim Turner - Star (27 boats)
5th: Dan Slater - Finn (57 entries)
15th: Sara Winther - Laser Radial (89 entries)
19th: Jo Aleh and Olivia Powrie - Women's 470 (52 entries)
21st: Matt Coutts - Finn (57 entries)
23rd: Paul Snow Hansen and Jason Saunders - Men's 470 (93 entries)
- APNZ