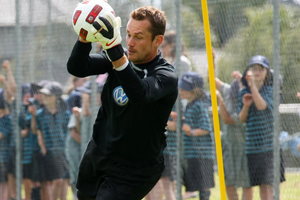 All Whites goalkeeper Glen Moss will return to the Wellington Phoenix, after signing a three year deal beginning at the start of the next A-League season.
The deal is one of two signings made by the Phoenix in the past 24 hours, after announcing David Dome as their general manager.
Moss is currently at Gold Coast United, after previously being at Melbourne Victory following his exit from the Phoenix in 2009.
He says he can't wait to go back to the capital.
"I've always been in contact with Ricky and the boys. Ricky had a chat and said what about coming back and the more thought of it I said yea I'd love to, it's a place I've obviously been before, and really enjoyed.''
Moss says he hopes he's vying for the goal keeping spot in the Phoenix alongside Mark Paston.
Paston is yet to re-sign for next year, however it's believed a deal is in front of him.
Moss says there's no rivalry between he and Paston.
"We've been friends not rivals, as I said to everybody, even back when we were playing together last summer. I came on the scene, I think it was 1995, during the national set-up, and Pasty took me under his wing then.''
"I'm hoping he does re -sign because we work together really well, he's a fantastic character in the dressing room as well,'' says Moss.
Moss will go head-to-head with Paston for the spot between the posts, assuming the fellow All White agrees to a new deal.