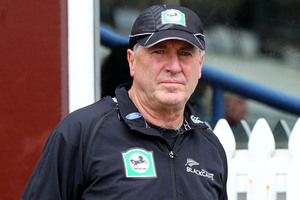 New Zealand Cricket boss David White expects John Wright's coaching future to be settled before the end of April.
Wright's contract is due to finish with the tour of the West Indies, starting at the end of June and running through until early August.
He took over the New Zealand coaching role late in 2010.
After a rocky start against Pakistan, he oversaw a semifinal place at the World Cup on the sub-continent, a memorable test win in Hobart in December, easy home and away wins over battlers Zimbabwe before an unsuccessful home series against South Africa, where all three series, in T20, ODI and tests, were lost and there was just a single T20 victory to show for it.
White, a former teammate of Wright's at Northern Districts, said he had been reluctant to discuss the contracting issue with him while South Africa were in New Zealand.
"We said we would give John three weeks after the South African series, just to give him time to think about his future," White said yesterday. "We would like something sealed within four weeks."
The players seem to be in 57-year-old Wright's camp. Captain Ross Taylor certainly wants the 82-test former captain to carry on.
"He's been very good to me," Taylor said yesterday of the man who appointed him to succeed Dan Vettori early last year.
"I've got a good relationship with him, and obviously I'm looking forward to him hopefully staying around."
While it would seem a straightforward job for Wright to continue, White said he appreciated it was not a decision to be rushed.
"It's a big commitment these days," he said. "If you look at our calendar for the next 12 months it's really challenging in terms of both time and commitment, so John is weighing his options."
After the Caribbean tour, New Zealand have trips to India for three tests in August, Sri Lanka for both the world T20 championship in September, then a separate tour involving tests and limited-overs internationals around November, and finally a tour to South Africa from December, running into the first half of January. When the players return home, England arrive for a long tour in February.
Wright's next business will be choosing the squad to tour the West Indies from late June. The touring group is due to be named next week.
And there is the debriefing after the South African tour which began encouragingly for New Zealand with a last-over win in the opening T20 in Wellington on February 17.
However, the next five limited-overs matches were lost. Rain ruined a fascinatingly poised first test in Dunedin, where New Zealand were 137 for two chasing 401 on a good pitch, at a required rate of under three an over.
South Africa won the second test by nine wickets inside three days, and New Zealand hung on, due to Kane Williamson's tenacity, to draw the third test on Tuesday at the Basin Reserve.
Stand-in captain Brendon McCullum felt had New Zealand lost the third test that would have been a shade unfair on the overall run of the series. Williamson's 102 not out in Wellington "in terms of New Zealand cricket history will go down as one of the more gutsy fighting efforts on the last day against this sort of attack", McCullum added.
Taylor had surgery on the broken bone in his left forearm on Tuesday.
The early indication is a four-week layoff, so he is hopeful of fitting in some games at the Indian Premier League for his Delhi Daredevils franchise.
The IPL starts on April 4 and runs to May 27.