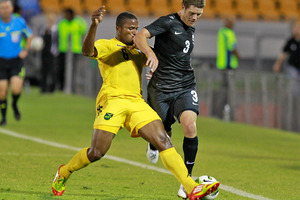 The All Whites' road to Brazil in 2014 will take them to Honiara for this year's second phase of the World Cup qualifiers in June.
The Oceania Nations Cup, which also doubles as the second stage of World Cup qualifiers, will be held in the Solomon Islands from June 1-12. The tournament was originally due to be held in Fiji but ongoing political issues and a disagreement with Oceania general secretary Tai Nicholas has seen the tournament relocated.
The Fiji government threatened contempt proceedings against Nicholas after he made comments about Fiji's judicial system.
New Zealand Football initially indicated they were keen to host the Nations Cup but chief executive Grant McKavanagh said there were too many "financial risks'' for them to commit to hosting - it would have cost the national body about $500,000. In the end it came down to a decision between the Solomon Islands and New Caledonia.
The All Whites should comfortably qualify for the next phase - the top four sides will play home and away to find Oceania's representative for a playoff with the fourth-best side from North and Central America - but the winner of the tournament will gain direct entry to next year's Confederations Cup. The All Whites played at the last Confederations Cup in South Africa in 2009 and it is seen as an important buildup to a successful World Cup campaign.
"We have to believe we will win the tournament no matter where it is being held,'' McKavanagh said. "All of the boys have said they will come back [to play in the Nations Cup].''
New Zealand will be joined by Fiji, New Caledonia, Papua New Guinea, Samoa, Solomon Islands, Tahiti and Vanuatu at the tournament, which will culminate in semifinals and a final. All matches will be held at the Lawson Tama Stadium in Honiara, which can hold up to 25,000 spectators.
The previous edition of the Nations Cup was held four years ago under a different format and featured New Zealand, New Caledonia, Fiji and Vanuatu playing off in a home-and-away series. There were no semifinals or final.
The All Whites topped the group, earning a place at the 2009 Confederations Cup in South Africa, and then beat Bahrain in a home-and-away playoff to win a spot at the 2010 World Cup in South Africa.
New Zealand have won four of the eight Nations Cup events held since the first in 1973 with Australia, who are now part of the Asian Football Confederation, winning the other four.
- APNZ