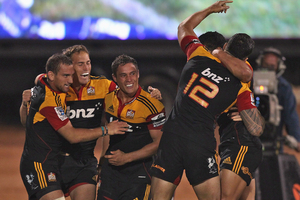 A contentious TMO try, another unforgivable ground-clock error and a last-minute home win turned what had been an ordinary night into a thriller.
Jackson Willison scored in the corner well after the ground clock passed 80, securing two extra points for the Chiefs who had themselves conceded a late, late try.
If there's one thing guaranteed to trip up the Chiefs, it's a sudden surge of expectation.
Armed with the confidence that consecutive wins over the Blues and Crusaders and with the knowledge they had a fortnight to rest battered bodies, the signs pointed to a comfortable Chiefs win.
Perhaps, subconsciously, the Chiefs believed that too. They played the first half as if they had only to turn up to this most unlovely of stadiums to win.
They spread it wide before they earned the right, lost the ball in contact too often and defended like they expected the man next to them to mop up their misses.
If they were playing against a team built to counter-attack they might have found themselves in a hole. This Jake White-coached team is set up to spoil and destroy, rather than create so instead the crowd spent the first half hour watching Aaron Cruden and Christian Lealiifano trade penalties.
The Chiefs occasionally looked dangerous, but it was Brumbies' blindside flanker Scott Fardy who came closest to scoring, instead throwing it over the line after the home side had coughed up possession again.
The Chiefs played Tanerau Latimer and Sam Cane as twin opensides operating on a left and right basis. The thinking was obvious. Whenever the Chiefs played with width, which they tried to do often, they would have a link man in support.
Where they missed having a traditional blindside was at the breakdown. Whether it was carelessness on the Chiefs part or some lax officiating by Ian Smith, but Tawera Kerr-Barlow was constantly harried as he tried to clear the ball.
The result was a first half that was frustrating for the Chiefs and turgid for the crowd.
There's probably more chance of finding atmosphere in outer space than at Baypark Stadium, but even so majority of the match, played in ideal conditions, turned out to be the perfect mood killer.
Dave Rennie replaced Sam Cane with Kane Thompson early in the second half as a the Chiefs started to combine bursts of individual brilliance, such as Sonny Bill Williams' 40m run, with buffoonery, such as the same players attempted grubber clearance from his own 22m.
This was a game that appeared for all money to be able to be divided by three until the Chiefs took the brave - foolhardy? - decision to take a lineout instead of a kickable penalty when the scores were tied at 15 with less a quarter of an hour remaining.
It didn't pay immediate dividends, but they camped out in the Brumbies 22m for the first time in the match.
The pressure eventually told as Taumalolo, who else, crashed over.
The seven-point buffer should have been enough, but another error gifted the Brumbies possession and a dubious Sam Carter try followed.
Then came Willison's last-minute heroics.
Four points bagged and four freebie points for a bye looming.
The Chiefs learned a valuable lesson last night.
They might be better than they have been for some time.
They might be capable of beating the best teams in the competition on their day.
But they're nowhere near good enough to win games without adhering to the basics first. They can just be thankful that it was a lesson that didn't come with a loss.
Chiefs 29
Tries: S Taumalolo, J Willison
Cons: A Cruden (2)
Pens: Cruden (5)
Brumbies 22
Try: S Carter
Con: L Lealiifano
Pens: L Lealiifano (5).