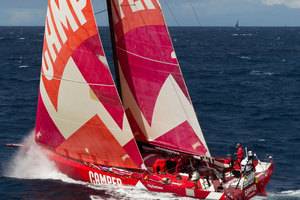 Team New Zealand Camper has been pipped for third spot on leg four of the Volvo Ocean Race into Auckland.
It's been one of the closest finishes in any leg of the Whitbread of Volvo with Telefonica beating Camper by just 93 seconds.
The boats match raced each other all the way up Waitemata Harbour from North Head to finish.
Puma Ocean Racing crossed the line in second place on the fourth leg just before midday, while Groupama came in first late last night.
Four boats are now home, with Abu Dhabi Racing and Team Sanya still to come.
Radio Sport's Guy Heveldt says about 10,000 people were waiting at the Viaduct, hoping the Kiwi team got a podium spot.
He says the crowd's in a good mood, despite the drizzly weather.