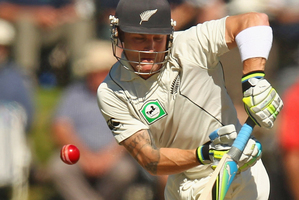 Brendon McCullum last night admitted soft dismissals of himself and captain Ross Taylor yesterday left him frustrated and disappointed.
Both were out in their forties, having done a pile of hard groundwork against the South African bowling attack, and left New Zealand with a rebuilding job in mid-afternoon, which they accomplished pretty well to eke out a five-run first-innings lead by stumps.
"They were pretty loose shots both of them, 50-50 shots, and it's disappointing," McCullum said.
"You work incredibly hard to get under way and bat some time, then you anticipate being able to kick on when the ball gets older and the bowlers are tired."
That said, he praised the work ethic of the South Africans, who had New Zealand 243 for nine at stumps.
"They bowled very well and challenged us all day on the right length. They asked a lot of questions of us."
McCullum sidestepped the issue of whether he'd rather still be opening - where he has averaged 45 in the last nine tests - instead of dropping to No 3 in the order for this match.
"I enjoyed batting No 3 today and to me one, two or three, there's no real difference," he said.
Both McCullum and South African quick Morne Morkel rated the test even stevens, and both praised new wicketkeeper Kruger van Wyk for his gritty 36 yesterday.
"I know Kruger's a gutsy player and he did very well," Morkel said.
Added McCullum: "He's a seasoned campaigner and he's relishing the opportunity to play against his former countrymen. What we saw from him was no surprise. He's a tough customer."
McCullum said the New Zealand dressing room was "reasonably happy" last night.
"There's still a long way to go and we're going to have to play some very good cricket and make some clinical decisions to win this test.
"We'd like to be further in front but [today] presents us with a huge opportunity with the ball."
Morkel's match recipe for South Africa? Bat long.
"Luckily we've got the top order that's shown in the past they can bat us out of difficult situations and I back them to go big in the second innings."
And Morkel went in to bat for his pace ace chum, Dale Steyn. The world's No 1-ranked test bowler struggled at times during the day, finishing with a solitary wicket just before stumps off 19 overs.
"He'll strike and come back for us at the right time," Morkel said. "I think Dale's a champion bowler and he's proved that over and over again so I'm not worried."
The remarkable Vernon Philander continued his stellar progress, with four for 50 yesterday. Halfway through just his fifth test, Philander has taken 34 wickets at 13 runs apiece. "He's a freak," Morkel said. "His consistency has been unbelievable."