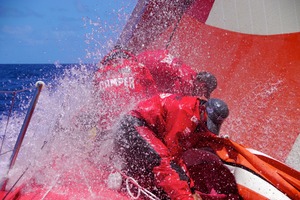 Grant Dalton has conceded Team New Zealand's round the world entry Camper has a major speed problem.
The Volvo Ocean Race will this weekend return to Auckland, long considered the race's historical home, for the first time in 10 years. But any hopes that the Kiwi entry will lead the fleet around North Head were officially stamped out by the Team New Zealand boss yesterday, with Dalton admitting Camper does not have the speed to catch the leading boats.
"They're not fast enough basically," he said.
The Camper crew are fourth in the race to Auckland and well off the blistering pace set by leading boat Groupama. With about 1600km left in the fourth leg, Team New Zealand are facing a huge battle to even make the podium in their hometown stopover.
A fourth-place finish would be hugely disappointing to the team, who spoke passionately before the start of the leg about their desire to be the first boat into Auckland.
Their bid started strongly, with Camper leading the fleet out of China as they revelled in the heavy wind conditions. Team New Zealand surrendered their lead on day five after giving up their controlling position when they allowed Groupama to get further east of them.
But the biggest setback came on day 10, when their J2 reaching headsail tore in half - costing them huge miles and three places on the leaderboard.
Dalton has been critical of the team's decision-making on previous legs, but said this time round he can find little fault in the calls made on board by co-skippers Chris Nicholson and Stu Bannantyne.
"Their decision-making hasn't been bad. Their decisions earlier on in the leg were pinpoint perfect."
Dalton said there was little that could be done to improve Camper's speed for the upcoming legs.
"It is what it is," he shrugged.
While the Team New Zealand boss appears resigned to Camper's speed deficiencies, he has not given up hope the team can win the next leg into Itajai, Brazil. The boat was built for tough Southern Ocean racing, and the Camper crew have proved they excel in heavy winds and difficult seas.
"Normally you get at least one hit on the way to the Horn, so there are opportunities there if you manage the boat properly," said Dalton.
Camper is pursuing a westerly approach as the fleet closes in on New Zealand in the hope of pulling back some kilometres in the complex weather situation developing off the northern tip of New Zealand.
In last night's latest position report Groupama looked to have an unassailable lead over the rest of the fleet, with a 193km advantage over second-placed Puma. The race is now on between Puma, Telefonica (3) and Camper (4) for the remaining podium spots.