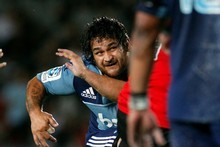 The warning from Blues boss Andy Dalton was brief and explicit: "We have dug the hole so we have to get out of it."
Dalton will get a closer than normal view of the Blues' reaction to their shabby defeat against the Chiefs when he travels to South Africa to watch their next two games.
He was in Hamilton last Friday and squirmed at the Blues' ineptitude in their 29-14 defeat.
"It was simply not acceptable," Dalton said. "For the expectations that we have got with the team, which are high and still are, we were bitterly disappointed to put in a performance like that.
"We have set some high expectations and a performance of that standard is simply not acceptable and I would add that the players know that well."
Dalton is a chief executive who is circumspect with his statements so the level of his displeasure glows in his observations. He would not apportion blame but reiterated the Blues' high expectations, their strong pre-season preparation and how he would pass on many comments of varying opinion to the team.
"They have got a lot of support but a performance such as that [against the Chiefs] turns support away and is extremely frustrating and disappointing. We have dug the hole so we have to get out of it," Dalton said.
The chief executive will discuss a number of issues with his Sanzar colleagues during his time in South Africa and will also assist at an NZ Trade function. He will link up with the Blues in what is a rare chance to share some leisure and work time with the players.
If the opportunity arose he would share some thoughts with players but he had no intention of cutting across Pat Lam's work or making any formal speeches to the group.
"I think the players need to understand there is a lot more than just the team involved, we are an organisation that touches a lot of people," Dalton said.
He clarified the situation behind the late starts for Tony Woodcock and Ma'a Nonu and Piri Weepu's stuttering beginning.
"The situation with Woodcock came on both the NZRU and ourselves after the teams were announced so we were not aware of his [late start] request. It is a contractual arrangement he had in his contract and he decided to use it post the naming of the team," Dalton said.
New Zealand needed to accept they had to dovetail offshore contracts like the Blues had with Nonu if the country wanted to retain such players. The Blues were aware Nonu would not be available for the first two games but had Benson Stanley to cover in midfield.
Weepu, by his own admission, had not returned in the condition he wanted but had been working hard to turn that around. He was already a strong part of the team environment and that would increase even more.
Dalton refused to speculate on whether the Blues had their focus on the trip to Africa rather than last week's match in Hamilton.
"I think that is something for them to answer but we were out-passioned and it hurts me to say that and I'm sure the players would be the first to recognise that. A number were very angry with themselves."
He would not finger the large All Blacks contingent for the malaise but agreed they needed to show authority.
"I am sure a large number of the players would be disappointed with their performances, I won't signal out individuals. We have a strong leadership team there," he said.
It had been working well but they were "very ordinary on Friday night" and Dalton would be very surprised if many had reached the standards they or the staff had expected. "There will be some reaction. Pat Lam was bitterly disappointed and I am sure he will respond accordingly. Let's see what comes out of that."
By Wynne Gray

Email

Wynne