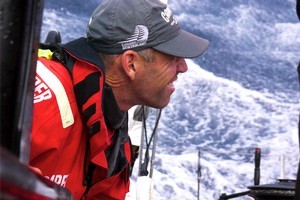 What a bizarre start.
After just over four hours of sailing around the coast of Hainan near Sanya we parked the boats in the marina again for a 12 hour delay imposed by the Volvo Ocean Race organisers.
This was to mitigate the effects of strong winds and big seas in the South China Sea.
When we finally set of just after 7am local time on Monday morning we struggled in very light winds before clearing the island and punching straight out in to good breeze.

Three days of upwind sailing ensued and with some subtle tactical manoeuvring we lead the fleet through the straits of Luzon after a very light air transition past the corner of Taiwan.
As predicted we encountered very strong currents there at one stage with only 4 knots of wind and water like a washing machine we were doing 11 knots over the ground most of which was because of current assistance.
A short period of running in 22 knots of wind followed and again with some current assistance we were covering 25 knots over ground for a few hours.
However it was very short lived, now we again find ourselves struggling in a light transition zone as we try to break free into new breeze in the north east.

On the plus side we are leading the fleet with Groupama shadowing us very closely and the remainder of the fleet also very close to each other but about 50 miles astern of us.

So now its back to work trying to wriggle through the light air and into the trades which should take us south to the equator and the general direction of home.