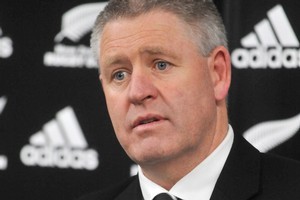 NZRU chief executive Steve Tew. Photo / NZPA
Do not expect the World Cup to provide a "silver bullet" for struggling rugby franchises.
That's the warning from New Zealand Rugby Union chief executive Steve Tew as the country's five franchises gear up for another year of Super rugby, starting with a derby between the Blues and Crusaders at Eden Park on Friday.
There is an expectation that the goodwill and, in many cases, rekindled love affair with the national sport generated by last year's World Cup will have a flow-on effect for the Super 15.
"What we can safely say is that there is definitely a positive feel about the game," Tew said. "Does that mean people will start automatically turning up to matches? I don't think we can make that assumption.
"The franchises are going to have to work very hard to make sure people come and give them good value for money when they're there."
New Zealand was the most disappointing performer during the 2011 Super 15 season in terms of people through the gate and eyeballs harvested on television.
There were extenuating circumstances - most notably the Crusaders' being forced away from AMI Stadium - but nothing that could totally account for the fan apathy.
While there was a rejuvenation of the Highlanders under Jamie Joseph, which is expected to continue with the move to the Forsyth Barr Stadium, the crowds were patchy at the Blues and grim at the Chiefs and Hurricanes.
The Chiefs were hampered by shocking weather, with home games having a knack of coinciding with miserable conditions (a run that continued in the pre-season match with the Hurricanes in Taupo on Friday). Poor form did not help either.
"The Chiefs have had a couple of tough years," Tew acknowledged. "There's two things that drive people to games that as [chief executive] you can't control. That's the way the team play and the weather.
"You can have competitive pricing, hand out free Coke, have face-painting and if it's piddling down with rain and the team's not playing well it's very hard to get people out to support them."
A number of initiatives have been put in place, most notably around ticket pricing, that the franchises hope will entice World Cup fans back to the stadiums for Super rugby.
"The Blues have already sold 15,000 for their season opener, which is a pretty positive indicator," Tew said. "The Chiefs have got growth in their season ticket sales, admittedly off a low base, but that's still exciting."
In terms of measuring the success of the tournament from an NZRU perspective, Tew wanted to see:
* depth of talent emerging for the All Blacks;
* two or three teams competing in the finals, with one going on to win;
* an increase in television audience but, more importantly, crowds.
This year's competition could also mark the end of an era. Quite apart from South Africa's annual threat to pull out of the tournament unless it gets another team in, it might be the last time the NZRU exclusively holds the licence for their franchises.
The NZRU went to market last year with the licences for the Blues, Chiefs, Hurricanes and Crusaders in a bid to inject fresh capital into the sport without ceding any ownership.
"There's certainly work being done by potential bidders," he said. "Whether that crystallises into a formal offer remains to be seen."


Play Jimungo Virtual Rugby and be in to win a trip for two to L.A. & $2000 travel money, plus loads of spot prizes.