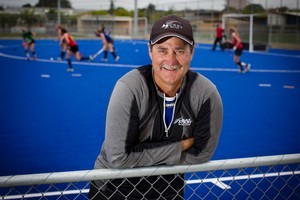 Despite the excellent progress over the last few years, Black Sticks coach Mark Hager still wonders about the mental toughness of his team - even more so since Friday's 3-0 loss to the Netherlands.
They have risen from 12th in the world to sixth under his watch, consistently looking more comfortable at the top table of world hockey but, over the last week, Hager has questioned the inner fight of his squad, both as individuals and as a collective unit.
"We are not mentally tough enough at the moment and that has been highlighted by our scorelines," Hager said. "We get in front but we can't hold it and it is an issue we have to address going forward. Mental toughness comes from within. It comes from digging deep; the will to win, and win every one-on-one contest. At the moment we have players who do that but I don't think collectively as a team we are doing it well enough."
New Zealand squandered 2-0 leads against Argentina and Korea last week while they didn't switch on until halftime against Germany and didn't score against the crack Dutch team.
They did, however, haul back three goals to beat China yesterday, after being 2-0 down.
"Under pressure sometimes we don't cope well," admits Hager. "Our midfield turn the ball over way too much and we are a bit cavalier with possession when we go forward. Our young ones need to learn to be better in those situations. At the moment they might play five minutes well but the rest of the game they are falling apart - and that's even [true of] some of our more senior players too.
Discounting Bianca Russell (33) and Sally Rutherford (30) in goal, the senior members of the current squad are Kayla Sharland (26), Emily Naylor (26) and Krystal Forgesson (29). Below that there are 15 players aged 24 or under, 11 of those 22 or less.
"I feel this team is usually quite mentally tough and strong but I think this tour has shown us we are not probably quite there," says Hager. "Especially with the [recent] retirements they we have had (Anna Thorpe, Laura Douglas, Jan Burrows, Ella Gunson); they were older and used to the tough, hard grind."
"Age and experience count - especially when you make a bad start to a game or a tournament," says Blacks Sticks men's captain Dean Couzins. "It gives you the belief that you can and will bounce back."
Couzins, who leads a team full of players aged in their thirties, is quick to add that age is only one consideration: "It can be important but is not the be-all and end-all. You can be the best regardless of your age and I think the women have done fantastically well over the last few years."
Though the last three weeks have been fairly arduous, with a heavy playing schedule and some extreme weather conditions, in a sense the hard work starts now as the countdown to London begins in earnest.
"We'll have to dig deep when we get home and they'll be put through the wringer, says Hager. "They have to learn to make good decisions when they are tired. It's a fact of life; if they can't do it we are going to struggle."
"In this group, being mentally tough has been a constant message; we always talk about the 'one per centers'. You don't know when the one time you don't run, you don't make a tackle or you miss a trap could lead to a goal."