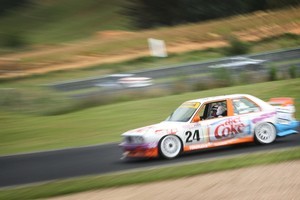 Further development of Hampton Downs Motorsport Park will commence in February, says Chris Watson, co-owner and partner in its development, alongside Tony Roberts.
He admits the recession and downturn in the property market affected the original schedule, but says management has ensured the track is booked out all the time and now runs at a profit, with conferences and other activities during the week. "Location has something to do with that. We're right on the doorstep of Auckland. Tauranga and Hamilton are close and, with Highway One, there's quick access."
The next stage is developing the business park alongside the short straight out of turn one from February. "It will become a motor sport centre for New Zealand," he says, with corporate boxes, race car storage, workshops and associated apartments.
A track extension is planned in three years, with the earthworks already done.
Watson says the longer track could tie into the arrival of V8 Supercars, though "they could run at Hampton Downs now. They do run on short tracks." Meanwhile, it will host the new V8 Supertourers' class while meetings continue with Supercar management. As for international events, NZ's remote location and relatively small size limit opportunities.
Has running Hampton Downs turned Watson's hobby into a business? He says not. "At the end of the day it's a property development, it has to pay for itself and you have to be pretty hardnosed, but it hasn't diluted my enjoyment of the racing."