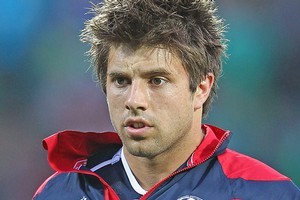 Former Highlanders' wing James Paterson received a four-month ban after testing positive for a painkiller while playing for the United States at the World Cup.
Paterson received the ban, which expires on February 13, after taking Oxycodone for an injured shoulder during the tournament in New Zealand.
The International Rugby Board confirmed that Paterson was provisionally suspended on October 13 last year.
Oxycodone is classified on the WADA prohibited list as a narcotic and is prohibited in competition. It is also classified as a specified substance.
IRB anti-doping manager Tim Ricketts said: "This was a very unfortunate case in the sense that it could have been avoided by referencing the WADA prohibited list which is provided to all unions and was proactively made available to all participating teams and players prior to and during RWC 2011.
"The main message to come from this error is that all medical personnel and players must be diligent in checking all medications whether it be over the counter or prescription medicine to ensure it does not contain any prohibited substances.
Under the strict liability principle, a player is responsible for any prohibited substance found in their system.''
Paterson, 24, has been dogged by injuries during his professional career and has moved to the United States after failing to pick up a Super Rugby contract for 2012.
He was born in Christchurch but lived in Hungary with his family for several years before returning to New Zealand and attending Christchurch Boys' High School.
Paterson, a former Canterbury player and member of the Crusaders' wider training group, also played American Football while attending school in Colorado and is a former captain of the USA under-19 rugby team.
- APNZ