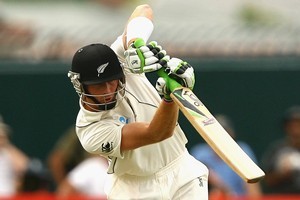 Those who consider Martin Guptill an elegant batsman are right, if batting virtues such as standing tall and playing straight in the "V" are any gauge.
In 2011 Guptill (25) cemented himself as an opener in the three formats of the international game. Those skills have been on show in the HRV Cup where he leads the player-endorsed MVP rankings, making 348 runs at 69.6 - including a century and half-century - to take Auckland to the top of the table. Add to that a laser beam arm, Venus fly-trap hands and a menacing prowl to scare off short singles and you have a player who fills the rare cricketing genre of "fielding all-rounder".
A comparison against New Zealand's two most recognised batsmen - Ross Taylor and Brendon McCullum - against Zimbabwe and Australia suggests Guptill has found his right place opening the innings. Across all three formats, Guptill scored 40 per cent of his 439 Zimbabwe/Australia runs in the "V"4 between cover and midwicket. Compare that to Taylor (14 per cent from 358 runs) and McCullum (32 per cent from 377).
Admittedly Taylor scored more runs (228) in the tests where it counted most, compared to Guptill (153) and McCullum (88). Each batsman had six test innings.
Guptill's percentage of runs in the "V" - the scoring corridor of least risk and greatest reward for a batsman - does not change dramatically across the three formats. In the three tests he got 33 per cent of his runs in that region, in two one-dayers 47 per cent and in two T20s 38 per cent. Taylor hit 11 per cent of his runs in the V in tests and 18 per cent in the one-dayers. He wasn't required in the T20s. McCullum was 20 per cent in tests, 43 per cent in one-dayers and 28 per cent in T20s.
However, Guptill is working to tweak those numbers slightly so he is less predictable. He says his instinct has always been to look straight first and square later but he is working on his cut shot and his short arm pull shot remains a strength as he develops more shots square.
Guptill is likely to have moved into the top five of New Zealand contracted players with his value across all three formats, although there are still areas to improve with a tour by the third-ranked (and fast rising) South Africa approaching. Guptill's straight bat technique is still vulnerable to pace when deliveries edge into the mid-140km/h range.
Take the series against Australia. Three of his four dismissals came when balls left him outside off stump in the 'corridor of uncertainty' (all from Peter Siddle) which resulted in snicks to wicketkeeper Brad Haddin. The fourth dismissal was a fend to short leg from a ball pitched at his body by James Pattinson. With the likes of Dale Steyn, Morne Morkel and emerging talent Vernon Philander set to tour, Guptill needs to work on staying composed and certain of where his off stump is when the speedo cranks up.
Despite that concern, he looks a more complete player after an English county season with Derbyshire. Derbyshire rated him highly. When he re-signed in November, Derbyshire coach Karl Krikken told Britain's BBC Guptill was a match-winner on several occasions, an excellent influence on his fellow players and noted for his batting consistency across all formats. He was the leading scorer in the county's Twenty20 campaign.