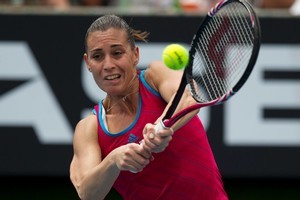 She is known for her toughness on the circuit but Flavia Penetta couldn't cope with her back injury as she gifted the ASB Classic final to Zheng Jie today.
Jie won 2-6, 6-3, 2-0 after Penetta retired in obvious pain five minutes into the third set in a match which was played indoors and lasted just over 90 minutes.
It was an unsatisfactory way for the tournament to end. Not only was the match played indoors a day later than scheduled due to rain, it was played in front of only about 200 corporate guests instead of what would have been 3000 on centre court.
There is no doubting Penetta's fighting spirit, though, and it was clear that she was in pain from an injury which began to hinder her late in the first set.
"I was starting to go down with my leg to be ready for the return and suddenly the pain would come, "she said. "I looked at the trainer and told her to come in because it was getting worse and worse and worse."
At 5-2 up in the first set, Penetta, the fourth seed ranked 20th in the world, called a medical time out.
She quickly wrapped up the set on her return and considered battling on after a good start to the second set.
"Of course. I had a chance. She was starting to see me and maybe start to think too much about how I was feeling. I was not moving at all. I was trying to just stay in the middle and keep in the point. When it is like that, sometimes you start to get a bit shaky and she was making a lot of mistakes.
"But every time I tried to serve it was really painful. It was not a good moment. I tried for another half set but it was not he way to be on the court, for me."
Zheng, ranked 48th in the world, began slowly, as she did in her semifinal victory over Svetlana Kuznetsova, but put the unforced errors of the first set behind her to take advantage of Penetta's injury. It is her first title since 2006.
Zheng twice broke Penetta in the second and the Italian held a long discussion with her coach Gabriel Urpi at its conclusion.
It wouldn't have surprised if she had thrown in the towel then, but she came out for the third and was broken straight way. Zheng's sound service game for her 2-0 lead was the final straw.
"It was so exciting and I'm so happy to win this title," said Zheng, 28.
"The first set was a bit tough for me, there were many games that went to deuce and I lost three games from deuce.
"My husband [and coach Chang Yu] came to the court and told me I still have a chance, it was just a few points I lost. He told me to keep fighting, just like before. I always want to fight on the court.
"For me I am tired and I need to say sorry for Flavia because of her back and I hope it is better for next week."
Penetta, who along with partner Julia Goerges were beaten in yesterday's double finals, said she considered her week in Auckland a good one despite the loss and injury today.
"Of course. I would like to be in the final of the singles and doubles every week and maybe lose. It doesn't matter because you're playing really good tennis. It was still a good week for me, yes of course."
The 29-year-old, who once challenged an opponent on a fight on court, will have an MRI scan in Sydney tomorrow (Mon), rather than playing in an Australian Open warm-up there.
- APNZ