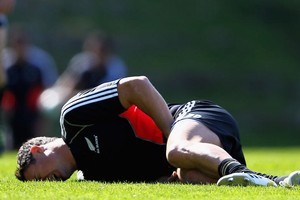 This year will be one to remember for New Zealand sport. Michael Brown of APNZ selects his top 10 good news stories of 2011.
10. Time's up for Terry
Few would have cared about the crumbling empire of a Wellington property developer if he didn't also happen to own the only professional football club in the country.
Terry Serepisos' desperation to hold onto his beloved Phoenix went to such extraordinary lengths he sought a US$100 million rescue package from a Bahrain-based businessman many said was a scam artist.
It was a sad end for the man who had single-handedly saved professional football in New Zealand in 2007 but the search for new owners this time was less treacherous than four years ago.
9. Hot Toddy
Mark Todd already had three so winning a fourth Badminton equestrian title might not seem a big deal.
It is when you consider he's 55 and won his first 31 and his last 15 years ago.
It was famously once said of Todd that, "you could put this guy on a donkey and he'd still win". Although he's not likely to turn up to next year's Olympics riding Eyeore, few would rule him out of winning in London.
8. Good shots
This year marked the return of Valerie Adams and arrival of Jacko Gill. Adams did things a little differently in 2011, living in Spartan training facilities in a tiny Swiss village for months at a time.
It was so basic and lacking in facilities she took to boiling eggs in the kettle. But it meant she was closer to her coach and it worked.
She chucked the shot put a whopping 21.24m, a world championship record-equalling throw and 1.19m further than her nearest opponent, to win her third successive world title and she is a clear favourite for Olympic gold in 2012.
The London Olympics might come around a little too soon for Gill, who is something special.
He owns just about every shot put world record at junior level and some think he has the potential to challenge senior ones set in the bad, old days of rampant steroid abuse.
He is a phenomenal athlete who can slam dunk a shot put and jump on top of a piano from standing starts and is often found by his parents training in the dead of night.
7. Donald reels it in
Stephen Donald ignored the phone when he was out whitebaiting. He disregarded the next call, too. When Mils Muliaina texted to tell him to answer his phone, Donald realised it might be important.
It was. He was needed to win the World Cup.
Donald made his World Cup debut in the final against France when Aaron Cruden, himself an injury replacement for Dan Carter, limped off. It was the imperfect storm.
In the biggest game in 24 years, the country's fourth-choice first five-eighths was steering the All Blacks. Not only did Donald do that well, but he also landed the match-winning penalty.
6. Hockey's re-emergence
The Black Sticks double act - confusingly, both the New Zealand men's and women's teams go by the same moniker - had years to remember in 2011. Firstly the women claimed bronze at their Champions Trophy and then the men narrowly missed a medal in their challenge. Not only that, they also beat and drew with the No 1-ranked Australians in a three-test series.
For a sport that faced serious scrutiny just over 12 months ago because of their seemingly inflated level of funding, they are now outside medal chances in London.
5. Breakers unbroken
For most of the season, it was assumed the Breakers would win their first ANBL with the same sort of ease of Alex Pledger has dunking the ball. Then they got beaten by Perth. By 23 points. In Auckland.
To many, it was season over. They were never going to win in Perth and certainly not without Mika Vukona who could barely walk because of a medial ligament injury.
Vukona not only suited up for the crucial match, but also played and pulled down 10 rebounds as Kirk Penney netted a season-high 38 points in a 93-89 victory.
The Breakers easily won game three back in Auckland and then beat Cairns to claim the championship and send retiring guard Paul Henare (the only remaining foundation player) off on a winning note.
In winning the ANBL title, the Breakers became the first New Zealand side to win a professional Australian league.
4. Bracewell reborn
The name Bracewell is one of the most recognisable in New Zealand cricket and Doug Bracewell ensured its re-emergence after his spectacular arrival to test cricket. He's now played three tests with match-winning roles in two.
The win over Zimbabwe was meritorious after he snared five wickets when the home side looked set for a rare victory but his nine-wicket haul against Australia was even more satisfying.
It helped the Black Caps to their first test win over Australia since 1993 and their first across the Tasman since 1985.
The Aussies didn't take it too well. Poor things.
3. The long Crusade
For years we were told playing away from home was difficult. The travel, time zones and unfamiliar territory weigh heavily on visiting teams.
It is without doubt easier playing at home, but the Crusaders didn't have a home. Their's was destroyed on February 22 along with a lot of Christchurch.
Todd Blackadder's side somehow defied their exile. They kept winning despite travelling more than 100,000km in three months and waving goodbye to terrified loved ones who had to remain in a still shifting Christchurch.
The longest stint they had in the same bed in the entire campaign was eight nights and that was in Cape Town. Somehow the Crusaders made it to the Super Rugby final but, after all they had been through and all the challenges they faced, they couldn't beat the Reds in Brisbane. Fairytales don't always have happy endings.
2. A grand year
The Warriors turned a good year into a great one with their run to the NRL grand final.
It didn't seem possible after their 40-10 hammering by Brisbane in the first week of the finals, but a late and spectacular Krisnan Inu try against the West Tigers followed by their dismantling of the Storm in Melbourne earned them a ticket to the Big Show for the second time in the club's history.
For a brief time they relegated the Rugby World Cup to the inside pages of the country's newspapers but ran into a relentless and unstoppable Manly side. Maybe next year.
1. Dan's groin and Richie's foot
As Dan Carter rolled around in pain, the entire country winced. When Richie McCaw hobbled, the country limped, too. At least this nightmare had the happiest of endings, courtesy of Stephen Donald's boot.
New Zealand breathed a sigh of relief. Then partied.
- APNZ