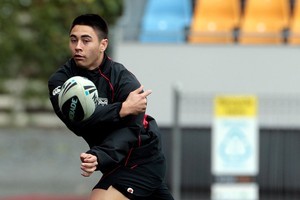 As a player he was perhaps the greatest halfback, certainly the most skilled, and his role as a freelance skills coach brings him into contact with a good chuck of the NRL's premier young play-making talent.
So when Andrew Johns describes the height Warriors star Shaun Johnson might one day reach as "scary", it's a view that carries weight.
Johns' rapturous evaluation of a player he has raved about since observing his first under-20s game comes, however, with a considerable caveat. He may have helped his team reach a grand final in his first half season, but Johnson remains a player of potential. Too often potential is prefaced with the word unfulfilled.
"Potentially it is scary how good [Johnson] can be," Johns said this week during a four-day stint as a guest skills coach at the Warriors.
"I still remember the first time I saw him. He is one of those lucky sportsmen who has been given a gift.
He is a player who hopefully realises those gifts and reaches his potential. If he does that, it is frightening what he can achieve.
"But it is going to take a lot of hard work, a lot of sacrifice and a lot of luck. You look at someone like Benji Marshall, his career could have been cut short by all those shoulder injuries. Hopefully [Johnson] gets the rub of the green with injuries and stuff. The mind boggles how good he can be."
That penultimate sentence is telling. It would not have been lost on Johns that Johnson's workload is being carefully managed due to ongoing concerns about a bulging disk in his lower back that sends pain shooting down his leg.
The injury first surfaced in pre-season training in January. Johnson recovered well enough to make this year his breakthrough year but the injury was still troubling enough to force him to decline Kiwis selection.
"The back is all right," Johnson insisted. "I had a really good break, six weeks off without doing anything. That gave it time to settle down and it has been holding up pretty well.
"They [medical staff] said it could stick around for a while but I am doing everything I can to manage it and make sure it is good to go when the season comes."
That description isn't going to allay too many fears about Johnson's long-term viability. Spinal disk injuries seldom simply go away and treatments, that can include surgery, are far from 100 per cent successful.
Johns is right to hope Johnson has some luck in that area. The parallels with Marshall, who was stricken with shoulder problems at a young age, are uncomfortable.
For now, Johnson is buzzing about the chance to fine-tune his game under Johns' impeccable eye.
"Joey has always had a lot of confidence in me and him coming over I can see that first hand," Johnson said.
"He opens up a lot of doors about how to play the game, what to look for, little triggers that, as a halfback, you should be on your toes and excited about, whether it be a lazy defender in the defensive line or how to work over a particular player.
"As halfbacks you've got to be the fittest on the field so you can make the most of opportunities when they come. He's made that pretty clear. He's put across the point that if we don't do our jobs we are letting down the whole team."
Letting folks down has been an issue for the Warriors before. Heading into 2009, the club appeared poised for a strong title challenge only to crumble under the weight of expectation. Johnson is well aware hopes for this team, and expectations of him, will be at a high next year.
"It has been addressed. We are going to work hard here [in training] and work hard out on the field and let it take care of itself. We are confident in our ability. There is a lot of talk about your second season being a lot tougher but I am confident if I keep doing all the right things off the field and keep ticking every little box then it will help me.
"You train your arse off every pre-season to play in a grand final. That hunger is there. I wouldn't like to wait another nine years. As long as we give our best in each game and personally keep working hard, then you hope it pays off."
Johns, too, will be hoping his contribution pays off. He'll be watching Johnson closely, looking for signs the knowledge he has passed on this week has sunk in.
"I would never be a fulltime head coach, there is just too much pressure involved," Johns said. "The role I get to do now, I feel blessed. I go and work with all the great young halfbacks and there is great job satisfaction watching the young guys improve."