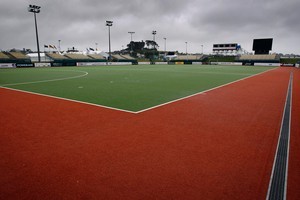 Hockey bosses have moved quickly to quash any suggestion the North Harbour Hockey Stadium is not up to international standard after Sunday's deluge washed out the scheduled second day of the Champions Trophy.
Flooded artificial turfs are nothing new with other major tournaments in the past year suffering the same fate.
"We lost time at last year's Champions Trophy in Monchengladbach and at the women's World Cup in Rosario," said International Hockey Federation (FIH) competitions manager Martyn Gallivan yesterday.
Looking out at the FIH-certified pitch being used for this tournament, Gallivan explained that under the playing surface was a huge drainage system which enabled a large volume of water - from both natural and artificial sources - to be recycled.
"Like any drainage system there is a point when it will fill up. Certainly, it is not uncommon," said Gallivan, a Welshman on his first visit to New Zealand.
"While we don't ever want to lose a whole day, we have contingencies in place to ensure the full schedule of matches is played. Rest days are incorporated to help that."
Wearing his other hat as this tournament's event co-ordinator, Gallivan was unstinting in his praise for the tournament and the manner in which Hockey New Zealand stepped in when it was decided to take the Champions Trophy away from India.
"When that decision was made we had a short window in which to find a new venue.
"I can only say we are delighted with Hockey New Zealand's decision to put their hand up," said Gallivan. Dubai and Kuala Lumpur had been the other options.
"The first time I walked in here I knew I had made the right call.
"We have signed up Argentina, the Netherlands and India as being places where hockey is seen as being commercially viable and successful. We would like to have at least one in this part of the world to add to that list.'
"I have been impressed with what I have seen. Traditionally, the first match on the opening day does not attract a big crowd but from the outset there was a big, and enthusiastic, crowd. As a Welshman walking into a new venue in a new, for me, country, I felt I was at a hockey venue.
"In having three pitches so close together you have the ideal set-up. We are conscious of the requirements for television and in having such a short walk from the warm-up pitch to the match turf, this venue again ticks the boxes," said Gallivan. "I can see the potential in a venue like this. We are very keen to sit down with Hockey New Zealand and look ahead.
"From what I have seen so far, I can't see any reason why a World Cup could not be played here. It is a natural amphitheatre.
"I'm not sure if there are other venues in New Zealand that could be developed to meet our requirements but that is something Hockey New Zealand might want to look at."
Gallivan says the FIH is fully aware of the need to project their sport in a positive way.
"Hockey is a global game. It is more exciting to watch than football, but we have to concede football has perhaps more passion and a much greater following.
"From next year we will be playing on a blue turf and with a yellow ball."
And, of the rule changes which have sped the game up with the introduction of the auto [self] pass, Gallivan is a great fan. "It has made hockey exceptionally fast and exciting."
"Any changes are only made on a two-year cycle which means they are always in place well before our major tournaments - the Olympics and World Cups," said Gallivan. "We will take good ideas from anywhere."