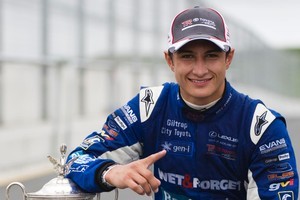 2011 New Zealand Grand Prix winner Mitch Evans confirmed he will attempt to defend his crown at Manfeild in February in the grand finale of the International Toyota Racing Series.
Evans, the winner of the 2010 and 2011 TRS championship titles, will lead a talented line-up of young Kiwi drivers, further strengthening local prospects for success in the most significant event on the New Zealand motor racing calendar.
At the end of his first full season racing in GP3 in Europe, Evans is home for a holiday break and some selected summer racing. He has committed to racing in the TRS round at Hampton Downs on February 2, a prelude to racing the following weekend at Manfeild.
"It's been a busy season in Europe, so it's good to be home and to have some time to reflect on what has been an amazing year," Evans said. "I am now looking forward to starting 2012 by racing here in the New Zealand Grand Prix, as this event is so special.
"It's a title that has been won by so many of the sport's great drivers and it would add real value to my CV if I can win it for a second time.
"It's going to be tough because the entry list is looking so good."
In addition to taking out the last New Zealand Grand Prix, Evans also won the historic New Zealand Motor Cup, presented to the winner of the feature race at Hampton Downs at the start of his 2011 season.
"The focus of my racing is now in Europe, as I head towards my goal of racing in Formula One," he said. "That is where most of our energy and resources are focussed, but I'm very happy that I'm able to race in the two final rounds of the Toyota Series at Hampton Downs and Manfeild."
Other New Zealand drivers who have confirmed to race in the five-round 2012 TRS season are last year's rookie champion and overall series runner-up Nick Cassidy, talented Southland teen Damon Leitch, former Porsche racer Jono Lester and Canterbury newcomer Chris Vlok.

- APNZ