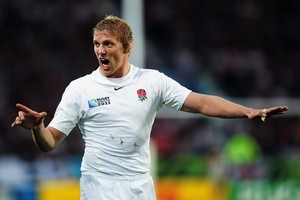 You'd have to say that Graham Henry got it right again. Coaching England would be about as much fun as the bubonic plague.
Even before the damning leaked report which showed the depth of the rot in the England squad and its controlling body, English rugby had many problems. The act of leaking a report the players thought was confidential shows the depth of the politicking and the strange mindsets which exist in English rugby.
Confidential documents showed a squad riven by infighting, concerned more about money than ambition, lacking confidence in the coaching staff and disillusioned by poor training. The players gave frank opinions never supposed to be published and players' association chief executive Damian Hopley was livid.
What this suggests is a divide between players and administrators hurriedly covering their own backsides and positioning themselves as to who should bear the blame for England's poor Rugby World Cup showing. There was also a widespread perception of the players as arrogant beyond their actual ability.
The survey was a carefully placed lighted match into the box of fireworks that exists after the jump-before-I'm-pushed resignation of coach Martin Johnson.
It directs the focus back on players who seemed to have adopted all that is bad about professional sport: money before honour; a sense of entitlement; and, during the World Cup, a sense that it was the passengers flying the plane - not the pilots.
Johnson was shown to be conned by his players and too weak to drag them into line. Captain Lewis Moody was criticised for a lack of leadership. He showed plenty of leadership, however, in a player revolt over pay before the World Cup began. With no discipline applied, the inmates rather took over the asylum, leading eventually to the infamous Mike Tindall episode.
Junior players told in the survey of their displeasureat senior players who imposed a culture where it was "cool" not to train hard. The players were also critical of the training itself, saying it was mentally draining and lacked focus on fitness and speed. They said Johnson was let down by his staff, who were out of date and substandard when it came to practices and game plans. Attack coach Brian Smith, defence coach Mike Ford, forwards coach John Wells and kicking coach Dave Alred were slammed; scrum coach Graham Rowntree was the only one praised. One player said halves Ben Youngs and Toby Flood took over some coaching.
"To go into World Cup games not having a game plan, any structure or clear idea of what we were going to do in attack was astonishing," one said. Another added: "I can't really believe we lasted as long as we did in the tournament. We played like crap."
This is an astonishing litany of woe, scarcely credible in a schoolboy side, let alone a World Cup squad - and the Rugby Football Union have an awful lot of work to do to explain how they let things get to that pass.
A coach like Henry would quickly sort all that out - were he even interested in coaching another national side - but England rugby has more issues yet. Like their inability to put together a team with athletes who can catch and pass.
England scored 20 tries in their five World Cup games, which sounds good until you realise that 16 of them came against Romania and Georgia. Wales, generally recognised as a better team, scored 29 from their seven games (21 against Namibia and Fiji). The All Blacks scored 40 tries in their seven matches.
One of the key differences between the hemispheres is the ability to create and finish. Australian and New Zealand rugby players grow up honing ball skills instinctively.
In back yards everywhere and in every break in school, you can see impromptu games of touch; test matches being replayed - kids playing for fun, honing the ability to run, catch, pass.
That seems to be missing from English rugby. Something is wrong at school-club-representative level.
Maybe they come too late to the game when, as someone once said, the English keep their dogs at home but send their kids to expensive kennels such as Eton, Harrow, Charterhouse, Rugby and Wellington colleges.
Their players, weaned on a diet of forward power and penalties, mostly do not have the basic ball skills, vision and ability to put a man into space.
And that, perhaps, would have been a bridge too far even for Graham Henry. Knocking senior players and a team into shape is one thing. Imbuing them with skill, quite another ... for anyone. Good luck, England's next coach, whoever you are.