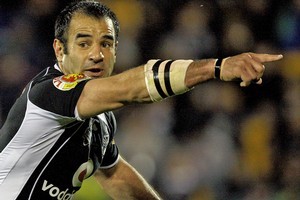 With New Zealand cricket great Martin Crowe calling an end to his comeback attempt to first class cricket, we look back on 10 other failed comebacks.
1. Muhammad Ali
One of the greatest athletes the world has seen, Ali retired from boxing after regaining the WBA heavyweight title from Leon Spinks in 1978. After two years on the sidelines an out-of-shape Ali re-laced his gloves at the age of 38 but was badly beaten by WBC title holder Larry Holmes. Holmes stopped Ali in the 10th round handing him his first defeat in a fight that didn't go the distance.
Ali attempted another comeback to the ring a year later losing to newcomer Trevor Berbick by unanimous decision, just his fifth professional defeat and the first time Ali lost two straight fights. It would be his last fight.
2. Stacey Jones
The 'Little General' was coaxed out of retirement by former Warriors coach Ivan Cleary at the end of 2008 to give the club more options at the troublesome halfback position during the 2009 season.
Jones put on a vintage performance in his first game back to beat defending premiers Manly but weaved little magic during the rest of the season as the Warriors finished 14th.
3. Jonah Lomu
Following his kidney transplant in 2004, the 63-test All Black announced his desire to return to rugby and the All Blacks for the 2007 Rugby World Cup. The blockbusting winger made it back to field with North Harbour in the NPC and with Welsh club Cardiff but his comeback was littered with injury. Lomu's World Cup dream was brought to an end when he failed to receive a Super 14 contract in 2007 - ruining his All Blacks chances.
4. Mike Tyson
'Iron' Mike's comeback in 1995 after serving three years in prison was somewhat successful. He regained one of the heavyweight titles he first won in 1986 but it all went downhill from there. He lost his much-anticipated fight with Evander Holyfield in 1996 before shocking the boxing world by biting a piece of Holyfield's ear off in their rematch a year later. Tyson went on to fight for the title once more in 2002 but was embarrassed by Lennox Lewis. He retired in 2005 after two consecutive knockout losses to Danny Williams and Kevin McBride.
5. Mark Spitz
Mark Spitz was the greatest swimmer in Olympic history until Michael Phelps eclipsed his record of seven gold medals at a single Games in Beijing in 2008. Spitz, who retired after his epic feat at Munich in 1972, came out of retirement to try and qualify for the 1992 Barcelona Games but was two seconds slower than the required qualifying time, putting his career to an official end.
6. Bjorn Borg
Borg stunned the sporting world in 1983 when he retired at just 25 after hitting the peaks of tennis. The Swede won six French Open titles and five Wimbledon crowns before hanging up his Donnay racquet for the first time. He then made a doomed comeback eight years later when he tried the absurd idea of continuing with a wooden racquet. He never won another match in 10 miserable tournaments over two years.
7. Michael Jordan
Arguably the greatest basketballer ever, Jordan completed a comeback to match his greatness when he returned to the NBA after trying his luck at baseball. In his first full season back Jordan lead the Chicago Bulls to the first of three straight titles from 1996 to 1998. He retired for a second time in 1999 before launching another comeback for the Washington Wizards two years later.
Jordan averaged more than 20 points during his two year stint with the Wizards but never reached the previous heights of his career and failed to earn Washington a playoff spot.
8. Brett Favre
The former Green Bay Packers quarterback retired in 2008 after playing 16 seasons with the famous franchise, leading them to a Super Bowl victory in 1997. However the retirement lasted a matter of months before he signed with the New York Jets for the 2008 season. He started the season in fine form leading the side to an 8-3 record before petering off at the back end of the season and finishing with the most interceptions in the league.
Favre signed with the Minnesota Vikings a year later, leading them to the NFC title game in 2009, before his final season was riddled with injury worries and he finished his career on the sidelines.
9. Kevin Keegan
After a decorated career as both a player and coach, Keegan's return to Newcastle in 2008 after a 11-year absence had the club dreaming of the good old days when he had them contending for the Premier League in the early 90s. However, the England manager had a horror start, going winless in his first eight games, and was shown the door eight months later after a dispute with owner Mike Ashley.
10. Michael Schumacher
When Schumacher announced his first return in 2009 for the injured Ferrari driver Felipe Massa, it was a rare bright spark in what had been a turbulent year for Formula One. However, the Schu's comeback was so brief he didn't even make the track as a lingering neck injury from in a motorbike accident in February forced him to cancel his plans.
A year later he made an official comeback signing with Mercedes but has failed to make an impression over the last two seasons. The German finished ninth last year and sits in eighth this season failing to make the podium once since his return to the sport.
- HERALD ONLINE/AFP