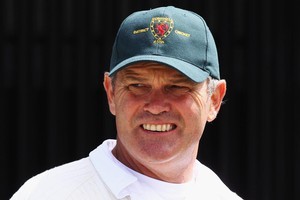 We're left to wonder if it was even much fun while it lasted.
A pained Martin Crowe bowed down before Father Time at 4am yesterday, when he realised his goal to play first-class cricket at the age of 49 would not come to pass.
There was always the chance this extraordinary story would come, quite literally, to a limp end. Crowe acknowledged it himself, but can be satisfied at least that he gave it a crack.
Seeking a challenge to get himself fit, Crowe, arguably New Zealand's greatest batsman, looked at his statistics and remembered he was just 392 runs shy of 20,000 first-class runs. That will do then. But one two-day match for the Cornwall Reserves - where a sluggish Papatoetoe pitch, over-exuberant appealing and a leading edge all combined to thwart Crowe's ambitions - and a single into the covers for the premiers on Saturday was as far as his comeback went.
"Four am. I write this with the left thigh iced up, another anti-inflammatory trying to find its mark, as I, for the fourth time in four months, treat a pulled muscle in my upper left leg," Crowe wrote in an email to the media.
"While getting off the mark yesterday I pulled the thigh running a normal single into the covers. So three balls into my first premier match back, it's over."
It contrasts bleakly with the hope Crowe had when he made public his desire to bat in a four-day match again.
"All I'd say is there is always an urge to bat in a four-day game," he told the Herald. "You look at the pitch and the nice sunny afternoons and that just used to be the best thing in the world - to be in your own little cocoon just playing the ball. I loved it; it was my favourite pastime."
But the problem with 49-year-old bodies is they often don't match the ambition shown by 49-year-old minds.
"I said from the start it would end in tears with an injury," Crowe continued in his email. "I pulled a hip flexor in July, a hamstring in August, a groin in October and now a thigh - all upper left leg, all compensating for a dodgy arthritic right knee.
"No tears, but frustrated after a lot of hard work getting ready. So that will do."
Crowe described his improbable odyssey as "sort of fun".
Even if the first-class target was stretching into the distance he would have liked to have had one more bat in a competitive match on Cornwall Park, where his father's ashes are buried.
"Instead Parnell CC will be the last ground I walk out on to thinking 'head still, play straight'." Sound advice that - no matter how old you are.