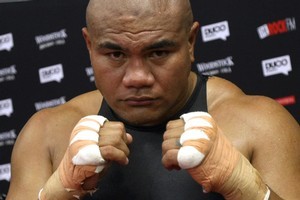 A third Monte Barrett fight has been proposed for David Tua early next year - but it is not yet known whether it will take place.
In the sort of strange twist which only seems to occur in boxing, Tua's former promoter Cedric Kushner is understood to be pushing for a third bout (Tua and Barrett drew their first and Barrett won the second in August, effectively knocking out any chances Tua had of a world title fight in the foreseeable future) in New Zealand - so Tua can regain momentum in what seems a stalled career.
Kushner declined to comment this week after Tua and Kushner ended their long association last month but, ironically, Kushner also has promoting rights for Barrett and is thought to have suggested a third fight, probably in March, which is when Tua has indicated he might be ready to fight again.
Tua's new approach is to work directly with new partner Sky TV - gaining more direct access to pay-per-view deals. News of his break with Kushner came during the Rugby World Cup.
A third fight with Barrett makes sense - as one school of thought suggests that Tua has to deal with Barrett's brake on his comeback before he can expect any more meaningful fights and perhaps a way back on to a title fight path.
However, there are other options - such as US fighter Chris Arreola, beaten in 2009 by WBC heavyweight champion Vitali Klitschko but until then well regarded in American boxing circles.
Tua may feel that a win over Arreola would effectively move him on from the Barrett saga and get him back into contention again. Arreola is a dangerous fighter - 30, 1.93cm, about 109kg and with a 34 win-two loss record from his 36 fights; although that means little with today's manicured, manufactured ring records.
Arreola lost his two fights against his only name opposition (Klitschko and Polish heavyweight Tomasz Adamek last year; Adamek went on to lose on a TKO to Vitali Klitschko in a WBC title fight in September) but has recently been building up against lesser opponents in an effort to gain another title bout - and talking confidently about being better prepared and in better shape.
One of those lesser opponents was Friday Ahunanya, whom Tua beat in a lacklustre unanimous points decision last year. Arreola also won a unanimous points decision in July.
Arreola is the sort of fighter Tua may fancy, even though he is a bigger man. Arreola can be a heavy hitter but is not a crisp mover and puncher; both his fights against Klitschko and Adamek were dominated by the movement and ringcraft of the latter two, with Arreola often struggling to lay a meaningful glove on them. Klitschko in particular fought at the length of his considerable reach and battered Arreola with many different punches and combinations - but he remains a contender in a heavyweight division not blessed with talent.
Arreola has fought five times in 2011 and is angling for a title shot, this time against Wladimir Klitschko, possibly in April or May - which timing-wise may not be good for a Tua-Arreola bout.
Whether the opponent is Barrett or Arreola, Team Tua clearly has some work to do before confidence in a victory can rise. There have been some puzzling noises coming out of the camp in recent times - not least the decision not to fight again until March. Many boxing insiders felt Tua needed to fight again straight away after the loss to Barrett.
Among other odd matters emanating from the Tua camp have been:Hints of retirement - extremely unlikely as Tua is said to owe somewhere between $2 million-$3 million in taxes; retirement doesn't seem an option.Chris Martin - Tua's trainer for the last Barrett fight has been reported as refusing to work with Tua after not being paid for his services against Barrett.
The latter is probably the clearest signal that all is not yet well in the Tua camp and that issues referred to after the second Barrett bout may have been accurate.
In a Herald on Sunday story in August, boxing insiders said that Tua appeared for the Barrett fight at least 5kg overweight. Back when he fought Shane Cameron, Tua was trained by the exacting Lee Parore. But Tua has since become his own business manager, and savings were made in that and other areas.
"In past times, if David didn't train right, he got an earful. But because he was the boss and was calling the shots, no one argued with him; no one had the tough conversations; they all went along with him, happy just to be working with Tua," said one source.
Most who saw the Tua-Barrett bout were frustrated that the big-punching Tua did not storm the Barrett ramparts early. One possible explanation is that, in his heart of hearts, Tua knew he was a bit underdone and did not want to punch himself out; leaving himself vulnerable to the same sort of Barrett attack that ended with Tua being decked for the first time in his career in their first bout.
Barrett is a tall, quick boxer with a good jab - exactly the type of fighter with whom Tua has had problems before. So he tried to stay in touch, banking on a big finish and a knockout.
"I don't know why David didn't come out faster," said one source close to Tua. "If he had, he would have won that fight and he could then have been looking at a title fight for anywhere from $3 million-$5 million. I just don't know what happened."
It was revealed after the Barrett fight - when Tua's impending split with Kushner became obvious - that Kushner had been talking to Wladimir Klitschko about a title fight, had Tua beaten Barrett. However, Tua did not know of this, as Kushner said his fighter had ducked him and would not meet him after the bout.
The Barrett fight might be the easiest to stage here - Kiwis are now familiar with him and the two bouts against Tua. That makes selling pay-per-views easier and Tua was said to have earned between $300,000- $400,000 for the last Barrett fight. Arreola could be the better fight in terms of global recognition but may be a harder sell promotionally here in New Zealand.
Sky TV chief executive John Fellet said he had not spoken to anyone regarding a third Barrett fight. He had also heard of the possibility of a Tua-Arreola fight but had heard no more than it being a possibility.
"We are not promoters, so we don't tie up deals between Monte Barrett and David Tua, though that doesn't mean they haven't been talking."