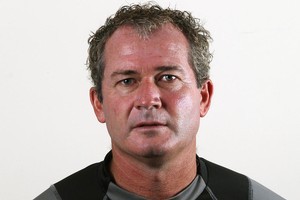 Black Sticks coach Shane McLeod is defending his decision to relieve Phil Burrows as captain and doubts it will have a destablising effect on the team.
In a surprise move, McLeod announced on Thursday that Dean Couzins would be taking over as skipper, replacing Burrows just three weeks out from the upcoming Champions Trophy tournament in Auckland.
Burrows won't be vice captain either, with that role now going to Shea McAleese.
Burrows had been captain since 2008 and admitted he was "shocked" as the decision seemed to come out of the blue; he has since openly wondered about the timing for him and the team.
But McLeod says he is taking a long term view and doesn't feel other players will react badly.
"Most players would understand and they can see the potential in Dean's leadership," McLeod told the Herald on Sunday. "Phil is obviously disappointed at the moment but he is a true professional and is the kind of guy who is quick to put things behind him.
Obviously the Champions Trophy is important to us but the big picture is the London Olympics and they are only months away. Right now we are looking at little margins, the one to five per cent gains and I feel that Dean can help us achieve."
McLeod was quick to say it was a "really tough" decision and had caused sleepless nights. He emphasised there had been "no huge run-in, no one situation" with Burrows and it was just a transition, albeit at an awkward time.
One can feel for Burrows, who was a popular leader among the group. "Phil was a great choice to replace Ryan Archibald, who was fairly quiet, lead by example type, whereas Phil was much more vocal," says McLeod. "Now at this time we feel that Dean has emerged as the better leader. He has a different communication style, one we think will enhance our team culture. Dean was always going to be a future leader and I guess this can just be seen as a fast tracking of things."
It is believed that Burrows, who admits he can be quite "abrupt" in his communication style, has caused some issues with his dealing with members of the coaching staff as well as younger players in the Black Sticks squad. Though there has been nothing major, Couzins is seen as more conciliatory and has impressed with his approach when he has deputised for Burrows on various occasions over the last few years.
There is every indication any disquiet over the move will not linger. The duo are great friends and both vastly experienced, Burrows has played 262 tests, Couzins 237. Meanwhile, the Junior Black Sticks women qualified for yesterday's final of the Lal Bahadur Shastri Four Nations Tournament in India after a hard fought victory over Australia on Friday night.
The 3-2 win secured a spot in the final against Germany, who the Kiwis comfortably beat 6-2 in round robin play. In contrast the Junior Black Sticks men had to be content with a fifth placed playoff in the Sultan of Johor Cup in Malaysia after losing 2-1 to Korea on Friday. They faced Pakistan in the play off match.