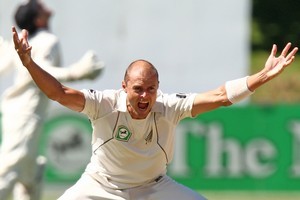 Just as his international career seems to be approaching its twilight, Chris Martin has been named New Zealand's outstanding cricketer of the year.
Martin became the inaugural winner of the Sir Richard Hadlee Medal at the New Zealand Cricket awards at Auckland Museum last night.
Martin, 36, became in Zimbabwe this month the fourth New Zealander to take 200 test wickets, after Hadlee (431), Dan Vettori (352) and Chris Cairns (218) - in a career which began at Bloemfontein in November 2000.
Martin has taken his wickets in 62 tests. Last season, he took 18 wickets in five tests against India and Pakistan, including reducing the powerful Indian batting line-up to 15 for five at Ahmedabad.
Martin also won the Winsor Cup as the country's best bowler in first-class cricket last season, beating off fellow seamers Neil Wagner of Otago and Northern Districts' Brent Arnel.
The Redpath Cup for best first-class batsman went to Central Districts' opener Peter Ingram, who topped the Plunket Shield aggregates with 858 runs.
Test opener Brendon McCullum - who hit the 16th double century by a New Zealand batsman in a test at Hyderabad before Christmas - was the test player of the year, ahead of Martin and Vettori, while current skipper Ross Taylor, who averaged 64 at the World Cup on the sub-continent, was named ODI player of the year, ahead of Martin Guptill and Tim Southee.
The domestic players of the year were awarded to Canterbury's Rob Nicol and Wellington's Sophie Devine; Sara McGlashan won international women's player of the year.
Southee was named T20 player of the year and young player of the year went to Kings College's Simon Hickey, who helped his school win the Gillette Cup.
The Bert Sutcliffe Medal for outstanding services to cricket went to longtime Auckland groundsman Ces Renwick.
New Zealand Cricket Awards
Sir Richard Hadlee Medal
The supreme award presented to the player whose performances in New Zealand Cricket have been the most outstanding.
Winner: Chris Martin
The National Bank Test Player of the Year
Awarded to the most outstanding player in Test cricket
Nominees: Chris Martin, Brendon McCullum, Daniel Vettori
Winner: Brendon McCullum
The National Bank One Day International Player of the Year
Awarded to the most outstanding player in One-Day International cricket
Nominees: Martin Guptill, Tim Southee, Ross Taylor
Winner: Ross Taylor
The National Bank Twenty20 Player of the Year
Awarded to the most outstanding player in Twenty20 International cricket.
Winner: Tim Southee
International Women's Player of the Year
Awarded to the player in women's international cricket have been the most meritorious.
Nominees: Aimee Watkins, Nicola Browne, Sara McGlashan
Winner: Sara McGlashan
Domestic Player of the Year - Women
Awarded to the most outstanding player in women's domestic cricket. [2010 winner: Nicola Browne]
Winner: Sophie Devine
Domestic Player of the Year - Men
Awarded to the most outstanding player in men's domestic cricket. [2010 winner: Michael Bates]
Winner: Rob Nicol
Winsor Cup
Awarded to the bowler whose performances in men's First Class cricket have been the most meritorious. [2010 winner: Daniel Vettori]
Nominees: Brent Arnel, Neil Wagner, Chris Martin
Winner: Chris Martin
Redpath Cup
Awarded to the batsman whose performances in men's First Class cricket have been the most meritorious. [2010 winner: Ross Taylor]
Nominees: Daniel Flynn, Peter Ingram, Brendon McCullum
Winner: Peter Ingram
Gillette Young Player of the Year
Winner: Simon Hickey - King's College
The Bert Sutcliffe Medal
For outstanding services to cricket. [2010 winner: Martin Horton]
Winner: Ces Renwick
Sir Jack Newman Award
Presented to an outstanding junior cricket administrator in New Zealand each year for past and present services to the game. [2010 winner: John Grocott]
Winner: Nick Craig from Auckland
Fans Choice for Outstanding Individual Performance
The Fans' Choice award for Outstanding Individual Performance is voted on by cricket fans across the nation. It recognises individual performances that were stellar, either showcasing the massive skill arsenal of the players themselves or having the power to alter match outcomes. [2010 winner: Brendon McCullum]
Nominees: Neil Wagner, Chris Martin, Ross Taylor, Tim Southee, Matt Henry
Winner: Neil Wagner