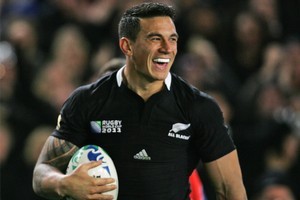 Fans think Sonny Bill Williams is disrespecting the All Blacks' jersey by taking his rugby commitments too lightly, says a sports manager.
The All Blacks' player has re-signed with the New Zealand Rugby Union for one year and will play for the Chiefs in the Super Rugby franchise.
Jonah Lomu's former manager Phil Kingsley Jones said Williams had upset some fans by publicly flaunting his career options before deciding to sign with the Hamilton-based team.
The rugby star and his manager should have debated options behind closed doors and if Sonny Bill knew he wanted to stay in New Zealand, he should have been more upfront about it, he said.
Mr Kingsley Jones said the country was full of rugby-mad fans who treated the sport as a religion, who took Williams' indifferent attitude as "disrespect'' for the black jersey.
"You don't disrespect [rugby]. Sometimes Sonny's attitude, or his manager's attitude of 'we'll let you know, or we'll get back to you', people who love rugby can't fathom it.
He said disgruntled fans started to take the attitude of 'bugger off' towards Sonny Bill because he couldn't decide where to choose.
"And he's signed for one year and he's not giving everyone a chance to embrace him. And he's got to be upstanding every game.
"By signing for one year and saying I'll let you know again next year what I want to do, people are saying just don't let him in. He's not really one of us.''
Mr Kingsley Jones said his former client Jonah Lomu had multiple options after wearing the All Blacks' jersey - including acting, playing league and playing American football.
"But we didn't bandy it around in front of everyone, and shake it as an excuse to get more money.''
He said Sonny Bill was an outstanding player and was very marketable, but he just needed to think of his fans more.
"If Sonny Bill's future is in New Zealand ... he needs to be loved.''
- APNZ