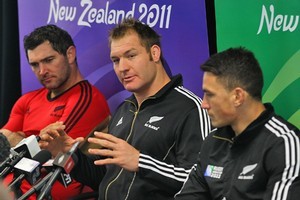 Sonny Bill Williams and Ali Williams acted as each other's interpreters for the opening questions of today's press conference at Trusts Stadium in Waitakere. The pair were in the mood for joking, before that was quickly shut down by a frustrated reporter.
The All Blacks have powered their way to the World Cup final, while maintaining a relaxed feel about the training camp.
However, Ali Williams assured the press conference that they are getting the balance right between relaxation and focus.
"If you're too relaxed you overlook the intricacies of the game. But if you're not relaxed enough you get too tense and you don't enjoy the moment. We're just trying to enjoy the week because it's different from any other week we'll ever have."
Stephen Donald, who chose not to get involved in the antics of the Williams pair, did not want to look too far ahead.
"Sunday's a long way away still. We know we're in a World Cup final and we're all pumped and excited about it. But we're just going to cruise through the week and build as we go."
Supporters at this World Cup have been anything but relaxed. And Williams was at a loss to put into words the reaction of fans to the tournament.
"I've never seen the country like this in my life. I was there in 1995 when we had the America's Cup and that was pretty phenomenal, but this is just another world - I haven't had to pay for one breakfast at my local cafe yet, which is pretty brilliant!
He agree that New Zealand crowds had ditched their reserved manner to create "mind-blowing" noise.
"That atmosphere on the weekend was one of the best I've ever been in. When people are roaring like that you don't miss a tackle. You've got that extra half a centimetre in a stride. The reality is it does things for you when you're playing that you can't explain."
- Herald Online