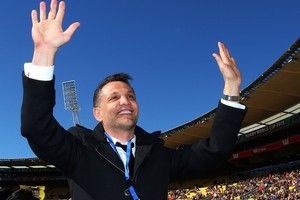 Former Wellington Phoenix owner Terry Serepisos may be down but he's not out, at least with football fans.
Before the kick-off of the Phoenix's first home game of the season in Wellington today, Yellow Fever supporters unfurled a large banner that read "Thanks Terry''.
Serepisos, who was at the game against the Newcastle Jets, waved to the fans and shared a hug with coach Ricki Herbert.
The former property developer had bankrolled the Wellington-based club since its creation in in 2007 but relinquished the licence of the club just before he was declared bankrupt.
The club was taken over by a consortium of seven Wellington businessmen, spearheaded by Kiwibank chairman Rob Morrison.
- APNZ