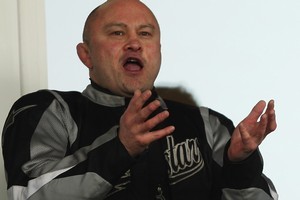 A former English rugby international has accused the New Zealand Rugby Union of "blackmail" after chief executive Steve Tew warned that the All Blacks may not play in the 2015 Rugby World Cup because of financial issues.
"They want what is best for world rugby? Excuse us whilst we vomit," former England forward Brian Moore wrote in response to Tew's comments.
In his column for the British Telegraph, the former World Cup hooker said the NZRU and its Sanzar partners Australia and South Africa had already connived with the IRB to "screw the minnows" by skewing the tournament schedule against them.
"New Zealand now want to screw them further by doing greedy deals with sponsors."
He said such deals would "lessen the value" of the Rugby World Cup's commercial rights, with the flow-on effects hurting tier-two nations.
In comments reported by the Guardian and the Telegraph, Tew pointed to a rule preventing participating nations from working with their sponsors during the tournament as they could conflict with the Cup's own sponsors.
The rule exists because of the need to maximise profits and generate income for developing the game in nations below the top 10.
"If this was a soccer World Cup, the All Blacks' hotel would be decked out with our sponsors until Thursday [before a weekend match]. In a Rugby World Cup, our sponsors do not get a look-in. They are very excluded," Tew said.
His Australian counterpart agreed. John O'Neill said his union was NZ$20 million worse off because of "no inbound tests from Northern Hemisphere teams and a curtailed Tri-Nations season".
"All we want is what is best for world rugby," Tew said.
"I am not saying we will not be involved in 2015, but you either reform things through an evolutionary process or you plant a flag in the ground and say it's time to change."
"This explicit blackmail is only negotiation if you are Lord Palmerston," countered Moore.
He also balked at former New Zealand coach Laurie Mains' support of Tew, and his claim that the All Blacks were the biggest attraction in rugby.
Moore said his nation contributed more money to world rugby than any other, and claimed that England - and any team they played at home - were equally as attractive as the All Blacks.
"If you had to pick a country to play in your national stadium the All Blacks might be that country. But the RFU fills Twickenham for games against South Africa, Australia and all Six Nations games.
"As they cannot sell more than the capacity, all those other teams produce as much money as New Zealand, and therefore are their equal in terms of attraction."
He also said the tournament didn't need the All Blacks, Wallabies and Springboks to survive.
"The Rugby World Cup existed well before Sanzar and the Tri-Nations and though diminished without them, it will survive their absence."
- NZHERALD STAFF