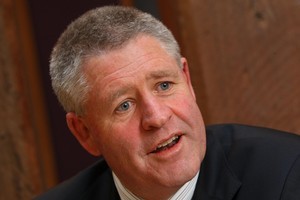 Steve Tew, New Zealand Rugby Union chief executive, has warned that the All Blacks may not compete in the 2015 Rugby World Cup unless the current financing structure is overhauled.
Tew revealed that the ruling body is set to take a $13.2m hit from the current tournament. The Guardian and Telegraph reported that the International Rugby Board (IRB) will announce the findings of a review of its World Cup financial model by May 2012.
"We think we are at a really important juncture," Tew said.
"We want a couple of things taken very seriously around the IRB table. One is the money that flows through and out of Rugby World Cup. It is well publicised that the major unions lose a significant amount of money net by participating in the tournament and that makes absolutely no sense.
"We lose NZ$13.2m worth of revenue after income from Rugby World Cup and costs are adjusted. It cannot carry on. We said at the last board conference that we needed a full review of the IRB's financial model, Rugby World Cup commercial rules and RWC money flows.
We are waiting with some anxiety what the IRB are going to do about it.
"The IRB did put an extra £1m on the table for the major unions six months ago which helped and which was appreciated, but frankly the prospects of us going to England in 2015 under the current model are very slim. We cannot continue to sign on for an event that costs us so much money."
Tew pointed to a rule preventing nations competing at the Rugby World Cup that prevents them from working with their sponsors during the tournament as they could conflict with the Cup's own sponsors. The rule exists because of the need to maximise profits and generate income for developing the game in nations below the top 10.
"We need to have serious discussions and some creative thinking to help us approach the next World Cup in a positive manner. I am not saying we will not be involved in 2015, but you either reform things through an evolutionary process or you plant a flag in the ground and say it's time to change.
"The World Cup issues are multifaceted," he said. "The commercial rules for the tournament for participating unions are, we believe, far too tough, much tougher than Fifa's. If this was a soccer World Cup, the All Blacks' hotel would be decked out with our sponsors until Thursday [before a weekend match]. In a Rugby World Cup, our sponsors do not get a look-in. They are very excluded.
"All we want is what is best for world rugby. New Zealand and Australia tend to have to bang the table pretty hard at times to get people to listen. Our approach has always been to do things by negotiation and discussion and try to reach collaborative decisions, but ultimately you have to get something."
"The current programme is £150m between 2009 and 2012 with approximately 50% of the revenues going to the tier-one nations. There are significant benefits for participation at rugby's showcase sport, including brand exposure to a broadcast audience in more than 200 countries worldwide.
"There are also huge benefits of hosting, ranging from stadia upgrades to participation increases. We will continue to work with our unions to ensure that the tournament continues to balance the strategic needs of our unions with the global development of the sport."
- Herald Online