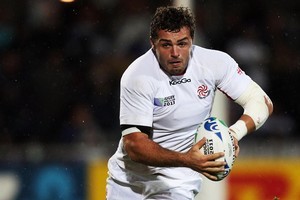 It was not, in truth, much of an opening game: the New Zealanders knew they were too good from the get-go and their opponents knew it too. For rugby fans in the vast European sports market, which is pretty much all that matters to the major broadcasters covering a World Cup, the early-morning alarm call backfired. Long before close of play, the sound of televisions being switched to the "off" position could be heard in every rugby- obsessed household from Gloucester to Toulouse.
The All Blacks-Tonga game at Eden Park 13 days ago? No. We're discussing the All Blacks-Italy match there almost a quarter of a century ago. New Zealand scored a dozen tries in winning 70-6, one of which, a waltzing length-of-the-field effort from winger John Kirwan, has gone down in the annals.
But anyone who actually enjoys watching one rugby team demolish another is either a sadist or a fool. The inaugural World Cup of 1987 had too many such mismatches, and the same can be said for every global gathering since.
Yet the gap - call it a chasm - between the big-fish rugby nations and the minnow-like makeweights who have to stand against them in this most physically demanding of team sports is slowly beginning to close.
In 1987, the average victory margin for one of the so-called "foundation" unions - the four home nations, France, Australia and New Zealand (South Africa, still riven by apartheid, did not receive an invitation) - over a "developing" country was 31 points. Uncomfortably large for those preferring to watch a contest rather than a cudgelling, especially as that competition was played under the four-point try system. In this tournament to date, with tries worth five points, the figure is 26.
Yes, there has been one unpalatable shellacking: the All Blacks' 83-7 victory over Japan in Hamilton last Friday was both depressing and depressingly predictable, given the history of games between the two. (In the 1995 competition, the scoreline was 145-17. And no, it was not in the Brave Blossoms' favour).
It may be that South Africa will make a horrible mess of neighbouring Namibia on Auckland's North Shore tonight, and the forthcoming England-Romania and Australia-Russia games could be every bit as messy.
But, by and large, the tier-two teams, some still amateur, are staying in games for longer, competing more strongly at the tackle area and making life unexpectedly uncomfortable for their richer, better-prepared, more indulged and infinitely swankier elders and betters.
Romania's assault on Scotland on the opening weekend was magnificent in its resourcefulness, while the Japanese, coached by the aforementioned Kirwan, pushed France deep into the final quarter. The US? Terrific against Ireland. Georgia? Competitive against the Scots and exceptional for long periods against England.
There have been uprisings before: it is only four years since a fine Argentina side fulfilled its rich potential by claiming a podium finish and three other gatecrashing outsiders - Fiji, Tonga, Georgia - took turns to threaten the established order.
But you have to go back to the second World Cup in 1991, when the likes of Samoa and Canada were in their late amateur-era pomp, to find a similar surge of outsider activity across each and every pool. And sure enough, that tournament produced an average big-team, little-team difference of 20 points, the lowest so far recorded.
Why is this happening?
"A lot of credit must go to the International Rugby Board," said Brian Smith, the England attack coach, who played for Australia in the 1987 tournament. "They've made it their business to invest money around the world, putting in high-performance programmes and making the finance available for countries to bring in top-level coaches.
"Look at Georgia: they have Richie Dixon [the former Scotland coach] heading up their operation, their defence coach is John Muggleton [a key figure in the Wallabies' triumph in 1999] and they have Garreth Adamson as their strength and conditioning specialist. He used to work with Harlequins and he knows his stuff. With that kind of input across the board, it's not surprising the Georgian team is improving, and improving fast.
"It's still the case that the newer nations struggle when a more powerful team hangs onto the ball through three or four phases, but this tournament is showing that it's increasingly difficult to accomplish."
Perhaps more than any team game, rugby reflects the sporting culture of a nation or region. The South Seas teams, full of unusually substantial and extremely explosive runners, seldom bring anything resembling a kicking strategy to the international arena; the Eastern Europeans place great emphasis on their scrummaging prowess; the Japanese, small but quick, play at such breakneck speed that they look like something out of the final minute of an old Benny Hill show; the Canadians, tough as old boots and ferociously committed, have no obvious strengths at all, yet bring a great-outdoors frontier spirit to their work.
Yet in this tournament, all these sides have arrived with something extra. Take the Georgians and Romanians: both have scrummaged strongly at times, as expected, but have also surprised opponents with the power of their back-row play. Mamuka Gorgodze, the Georgian open-side flanker, is arguably the player of the competition so far, with No 8 Dimitri Basilaia not far behind. For their part, Romania have brought, and continue to bring, Daniel Carpo and Ovidiu Tonita to the party.
Smith is right: coaching, allied to carefully targeted investment, has been the key.
Two World Cup-winning Wallabies, hooker Michael Foley and No 8 Toutai Kefu, are helping Fiji and Tonga respectively, and it is reasonable to suggest neither man has come cheap.
The former All Black back Kieran Crowley is heading up Canada's operation, supported by two experienced Welsh technicians in Geraint John and Clive Griffiths, while another World Cup winner, New Zealand prop Steve McDowall, is on the Romanian staff. Russia, meanwhile, have a pair of retired Welsh test players, Kingsley Jones and Darren Morris, as well as Henry Paul, who excelled in both rugby codes.
Perhaps in another 25 years, every nation will arrive at the World Cup with a home-grown coaching team. Now is not the time to yearn for it.
As the great art historian Kenneth Clark noted, internationalism is accepted unquestioningly when something really matters.
- Independent